Book a free consultation meeting!
Learn all you need to know about Blockchain PR by reading this definitive guide.
Blockchain PR – Everything You Need to Know

Blockchain PR is one of the most potent forms of marketing available to companies. This Blockchain Public Relations guide is by far the most valuable piece of content I have ever written.

In this article, I take the experience I have gained over the last four years of dealing with digital and blockchain marketing, working with more than 50 clients from all over the world, and put it all into one, summarised, easy to understand guide.
This guide aims to teach you everything you need to know about Blockchain PR and Blockchain marketing. I have divided this into a few chapters. Alternatively, if you want to learn on the go, we've produced this Blockchain PR guide in video form!
What is Blockchain PR?
To better understand what Blockchain PR (Blockchain Public Relations) is, we first need to discuss how it is different from other PR methods.

PR is something you see everywhere. You've probably seen it so much that at one point, you stopped paying attention to it.

For those of you who don't know, It's common to split PR into two categories: Traditional PR and Digital PR. 

Traditional PR focuses mostly on traditional channels (brilliant answer, right?). Traditional channels can be TV, Radio, Printed publications, etc.

With the rise of giant tech companies like Google and Facebook, digital became the most common marketing channel for PR companies. 
Digital PR focuses on different forms of social media, blogs, online news sites, influencer marketing, and more.

In the last few years, with the ICO boom in 2017, a new kind of PR is involved in the crypto market.

Creating Blockchain PR buzz is an art form. You need to build brand awareness around a blockchain project using creative methods and strategies. 

PR in the crypto space is challenging because blockchain companies can't run PPC campaigns on many social networks, making their pricing higher than digital PR for non-blockchain companies. 
Why Your Blockchain PR campaign isn't working
Imagine you have hired a content writer, given them an idea of what you want the article to be about, and what to say about your company.

You have spent time and energy doing all those things.

Then the article gets published, and the only ones who share it are part of your team.

This is the reality of 99% of the companies who create their own content.

Buzzsumo found that the median shares of articles have fallen from 8 in 2015 to just 4 in 2017.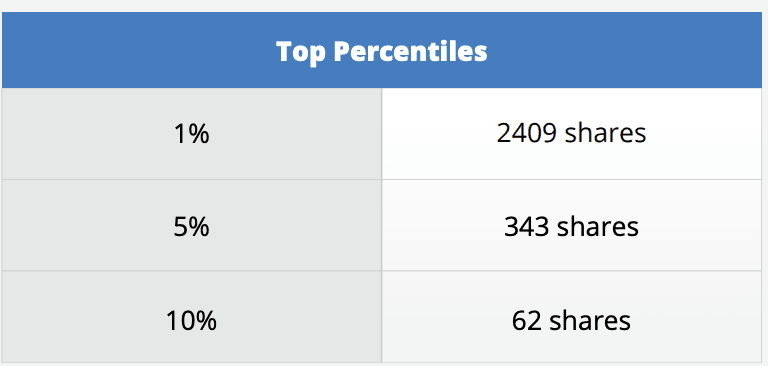 In 2019, Dean and BuzzSumo reviewed 912 million blog posts and discovered that:
"Long-form content gets an average of 77.2% more links than short articles. Therefore, long-form content appears to be ideal for backlink acquisition."
At GuerrillaBuzz, we have written and promoted thousands of articles over the years, and I believe it gave me a better understanding of which content works and which doesn't.

Many factors will determine if your content will get shared and if it will achieve the purpose for which it was made. 
Giving real value to the readers
Don't just write an article because it's on your checklist. Think about what to write and how your target audience will benefit from reading it. Blockchain Public Relations agencies often overlook the quality side of content – don't be like them!
Don't try to sell
Have you ever walked into a Nike store, and the person who worked there pitched to you why Nike is the best company in the whole world? Did that make you want to buy their products?

The answer is absolutely NOT.

But when new clients approach us and I check the PR they have launched previously, I'm surprised to see how companies don't understand this concept.

When you read an article, you don't want anyone to sell you anything. Instead, it is your opportunity to shine. The reader is already inside an article written by you (or for you), and by giving them valuable information, you can gain the readers' trust.
Content-Length

Longer content usually gets more shares and backlinks. But it depends on the context.

A 10,000-word article on a news site that usually writes about scoops (short pieces in its nature) won't belong to that domain. In your blog, an in-depth article with the right focus keywords is more likely to get shares/backlinks than a short one.
Readability
The modern world has brought ADHD to most of us. People rarely read the whole paragraph and look for essential parts of the article.

This behavior has made readers cynical towards long paragraph articles without images and links.

One of your blockchain PR agency campaign goals is to keep the readers in the article for as long as possible.

By writing an article with short-medium paragraphs, choosing the right images, and even inserting some emotions into the article, you will increase your readers' chance to do what they do the worst: keep reading!

Your target audience sees many different articles and ads every day. The average person is exposed to around 5,000 ads per day.

That's a lot. In a world where everyone wants to sell you something, your title should catch the eye of your target audience without making it clickbait.

The problem with clickbait titles is basically everything. You lie to your readers so that they will enter the article. After they do, in most cases, the content doesn't justify the title's excitement, and then users leave.

When it comes to the title, you want to make sure that it's attractive but realistic. It can bring valuable information but don't reveal everything to ensure the user wants to read more.
How much does Blockchain PR Cost?
"Love is like money… hard to find, easy to lose." — Ally Mbululo
One of the first questions I get from our clients is: How much does Blockchain Public Relations cost?

The answer: It depends.

You will probably find this answer annoying, but it does depend on many factors.

Assuming you have $6,000/month to spend on your blockchain PR campaign (keep in mind, the amounts are usually at least x10 more than the amount I mentioned). Let's run two scenarios:
We will launch your PR only on significant publications.

We will launch your PR on medium-size publications.
Scenario 1:

Launching your Blockchain PR on large publications:
When it comes to PR, everyone wants to get mentioned in large, credible publications.

If your target audience sees you on CoinTelegraph or Forbes, you gain credibility, and your message becomes more trustworthy.

Assuming you have $5000 per month for your blockchain PR campaign.

One PR article on CoinTelegraph costs around $3000. On Forbes, many freelancers sell backlinks/mentions for around $1700
The problem with those backlinks is that they are likely to get removed by the editors, and many times they are done in an unprofessional manner.

So we launched an article on two large publications, paying almost $5000. Adding your writer costs, and we have reached our monthly budget.
Pros

:
Add the publication logo to your site.

High-quality backlink.

Improve your branding and authority.

More likely to get exposure than an article in a small-medium publication.
Cons:
High costs.

In many cases, you can't add a link to the article in a mention (some sites don't allow hyperlinks).

Those publications' glory slowly fades with the years as people understand that a lot of the content is biased.
Scenario 2:

Launching your PR on medium-size publications:
There are dozens of medium size news sites that are suitable for your creative blockchain PR campaign. They might not have millions of views like Forbes, but the target audience is extremely relevant for your IEO/ICO/STO.

Launching your article on a medium-size publication can cost you, on average, from 300-700 dollars, depending on the site's popularity.

Unlike Forbes & other large publications that generate dozens of articles per day on an array of different subjects, medium-size publications usually release only a few articles per day, giving each article more time in the "spotlight."
Pros

:
Low costs.

Launching articles in a few medium-size publications with authority in the industry can help your branding.

The right target audience. Unlike large publications like Forbes, where many people there are not coming to the site to read about crypto, In Medium size publications, most of the visitors DO care about crypto.
But like everything in life, you need to find the balance:

The best results can be achieved by launching a PR campaign that includes large publications and medium ones as well.

So why are so many companies who launch blockchain public relations campaigns (including large and medium publications) not achieving their goals? That's precisely what we are going to discuss in the next chapter.
Blockchain PR Challenges
You've launched your PR campaign for your IDO on large and medium publications, you've spent thousands of dollars per month, and yet, you still feel like you're in the same spot.

You're not alone. In 2017, when I worked with many different crypto projects, the ICO marketing campaigns were shorter.

We could launch a PR campaign for 3–4 months, and because of the hype around cryptocurrencies and ICOs, projects could run relatively fast fundraising and reach their hard-cap.
The Times They Are a-Changin' — Bob Dylan
But in 2018, the ICO bubble burst, and the crypto community became wiser.
Few companies who betrayed their investors put a red mark all over the blockchain industry.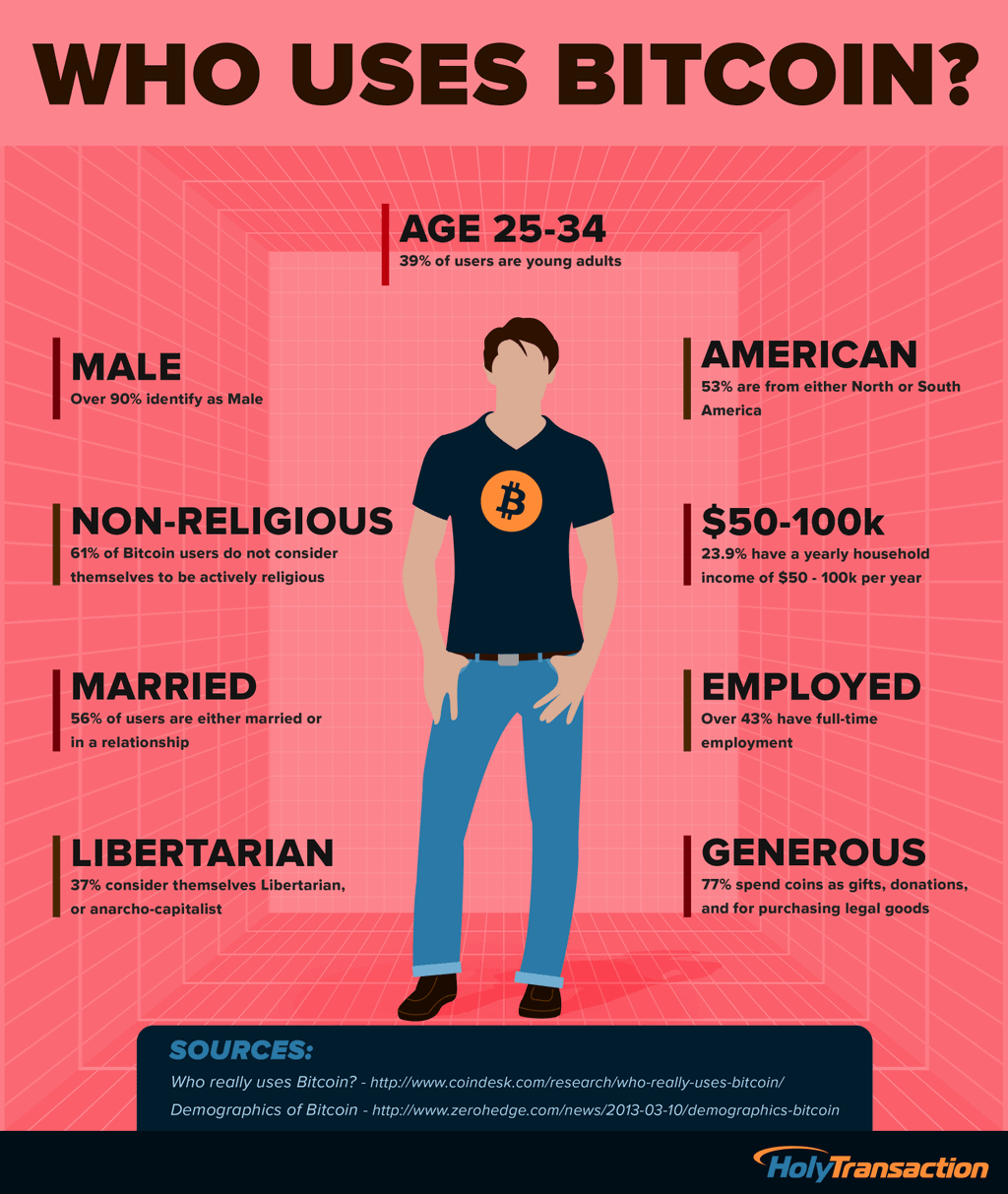 Changes to Blockchain Public Relations campaigns
Google, Facebook, and other social networks decided to ban ads related to cryptocurrencies and ICOs.

All of the above made it extremely difficult to run a blockchain marketing campaign.
But when one door closes, another opens. The ban pushed blockchain companies to focus more on crypto communities. Bitcointalk, Reddit, and Steemit came to the rescue. 

By submitting your PR article to Reddit, Bitcointalk, Steemit, and more crypto communities, you could significantly increase each article's reach.

Sounds great, right?

Well, most companies failed to push their content to these communities, making it even more challenging to run the blockchain PR campaign.

But why?

In short, the people in those communities are smart.

They can sense when a company is trying to sell them something. When they sense something is wrong, they warn the community to gain respect.

This respect-based economy can be a great thing, as a great project can earn the community's support and gain enormous buzz around its brand.

Companies that fail to define their target are not delivering the right message.

Most of the crypto traders and investors are males between the age of 25–34. We are talking about millennials with a passion for tech and innovation.

Pro Tip: community members can sense promoted content. You need to stop thinking like you're running a promotion and start feeling like you're part of the target crypto community for your campaign.
Running a Blockchain PR Campaign that's SEO Oriented:

Most Blockchain companies don't pay attention to SEO because they only have a short time to create a large amount of buzz (ICOs/STOs/IEOs).

Imagine this: Your PR article is on fire (in a good way). It's getting hundreds of views and driving traffic into your site.
But the day after, it's all gone.

Give a Man a 100$ for PPC campaign, and You Feed Him for a Day. Teach a Man To SEO, and You Feed Him for a Lifetime.
Running blockchain PR keeping SEO in mind will help you step up your game, direct traffic to your site over time, and improve your branding.
What is SEO?
According to Moz:
SEO stands for Search Engine Optimization, which is the practice of increasing the quantity and quality of traffic to your website through organic search engine results.
My advice to you is simple: Focus on SEO from day one. Whenever it's in a blog or PR article, try to ask yourself these questions: Will this content get ranked?

If the answer is YES, for which search terms?

If the answer is NO, what can you do to make it rank?

What do I want to achieve from this content? SEO is not only about traffic. It's about presence. Being there when your target audience is looking for an answer and gaining authority within your niche. When you work on a new piece of content, think about what you want to get from it.

GuerrillaBuzz, for example, is a creative Blockchain marketing and PR agency.

Still, you will be able to find us ranked 1st on Google for many different search terms that are less related to our capabilities.
How to strategize SEO?
How to launch an STO brought us thousand of views and many leads over the last year.

We are not providing that kind of service, but we have partners who do. 

But that's not the point here.

The point is that we write a lot of content that's relevant to our target audience. In this case, we might not have STO launch services, but companies who look for these kinds of facilities will also need a blockchain marketing campaign.

These companies are more likely to remember our brand because we bring free value to our potential customers all the time.
It's never too late to begin with SEO strategy:
Let's say your company has been up and running for a while but has ignored SEO. Don't worry; it's not too late. I'll break it down.
Start by understanding where your company stands in regards to SEO. What keywords do you rank for? How many backlinks does your site have? Are they good quality? Do they come from relevant, reliable sources?
How to Launch an SEO Blockchain PR Campaign
After conducting keyword research and better understanding your current situation, you should also know the keyword for which you want your site to rank. You can also find out if any keywords have already ranked and want to improve their position.

When it comes to the Blockchain PR campaign, if your company is already being featured on a high authority site, make sure every time you get featured counts. Ask the journalist to create a backlink for potential keywords.
For those of you who aren't familiar with backlinks and the importance of backlinks to your domain, here's a short explanation by Moz.
Blockchain PR KPIs
When it comes to PR, the word 'KPI' is always mentioned in any conversation with a new client. According to Wikipedia:
Key Performance Indicator (KPI) is a type of performance measurement. KPIs evaluate the success of an organization or of a particular activity (such as projects, programs, products, and other initiatives) in which it engages.
In a PPC campaign, everything is measurable. Google, Facebook, and other similar sites created such a great platform that as a company owner, you can know that when you invest x amount of dollars into an ad campaign, you can get 1.5x in return.

In a PR campaign, this is not the case.

When you launch an article on Forbes that costs you $10,000, how can you know the impact of this article?

If the article brought you only 50 views, is that the only KPI?

What about brand awareness and the authority that your company gains from being featured on Forbes?

It's much more difficult to measure those things, which makes the KPIs in a PR campaign somewhat a grey area. When it comes to crypto PR, things are getting even more complicated!

There are time pressures and dozens of social media channels you need to focus on. In many of those channels, understanding the KPIs is hard.
Blockchain Public Relations Case Studies

Take Reddit, for instance. Let's look now at /r/cryptocurrency front page.

The 2nd top post this week is a PR article from CoinTelegraph.

The post received more than 1200 upvotes and almost 150 comments.
But what's the impact of this post?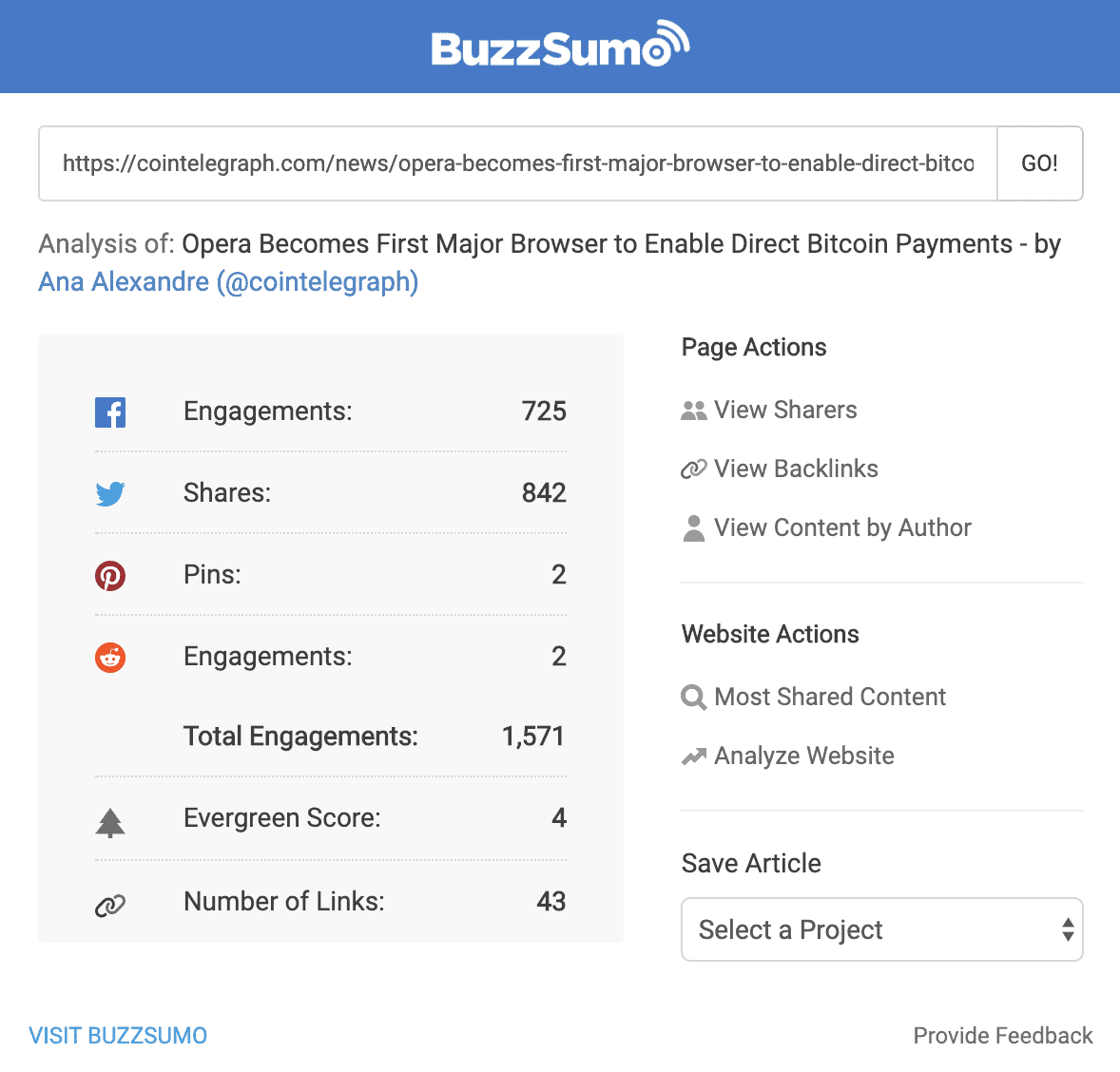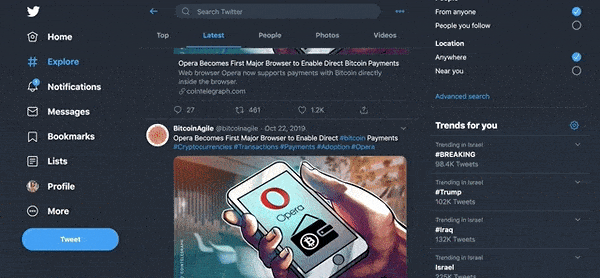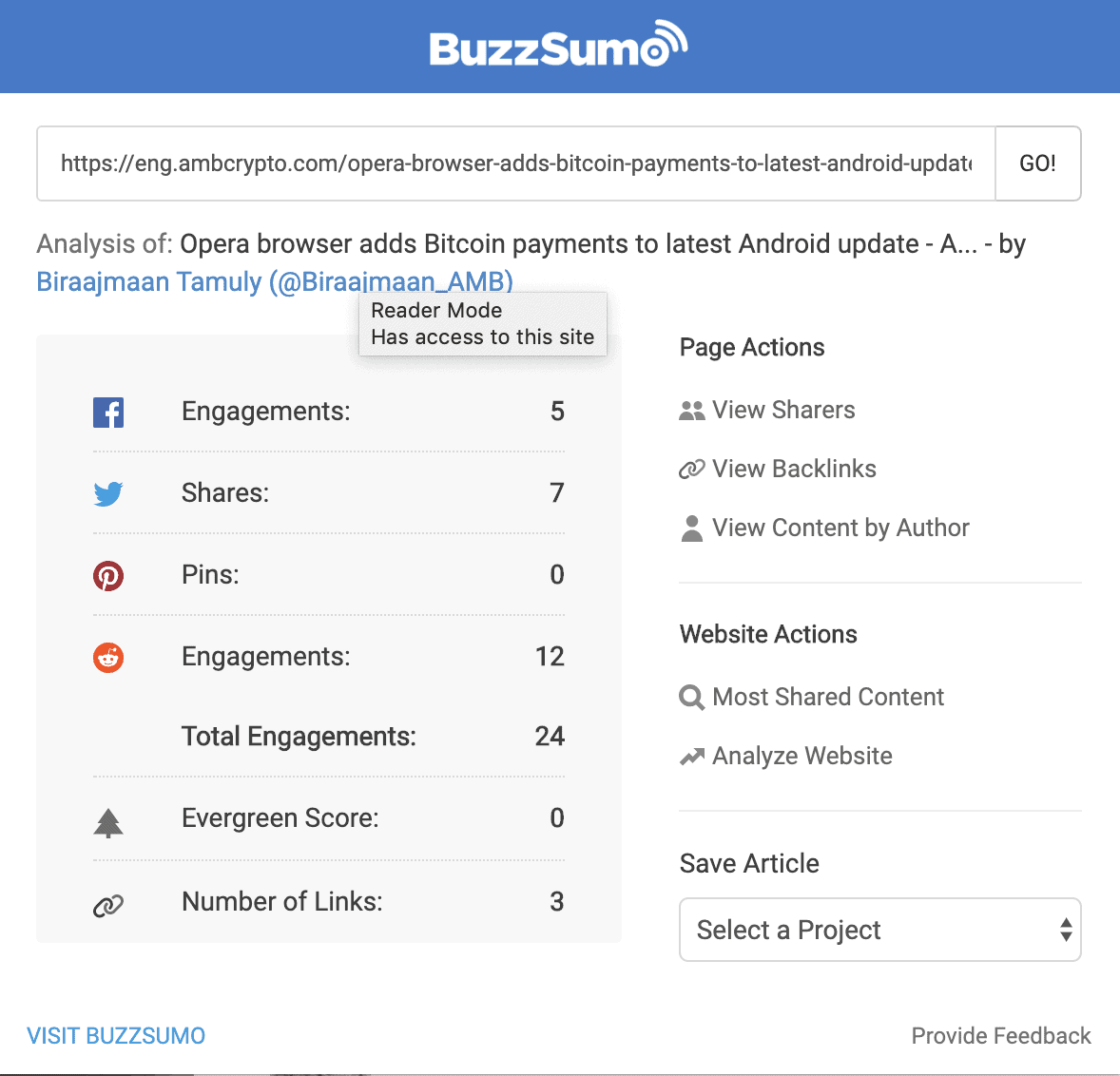 Let's go further
For some reason, it shows only two engagements on Reddit. In reality, this article received more than 1200 individual upvotes on Reddit. When a post goes viral on Reddit, it brings about a positive effect. Consequently, the article received dozens of backlinks, tweets, and shares.

Now let's compare it to another blockchain PR article about the same announcement that wasn't distributed on Reddit.

As you can see here, the buzz this article generated is nothing compared to the one that went viral on Reddit. When running a blockchain PR campaign, it's crucial to maximize your reach and distribute the content on different social media.
Conclusion
If you plan on building your own blockchain company or aim to launch a PR campaign for your existing company, you may face different unexpected challenges. This guide gives you a great understanding of how PR works in the blockchain world, but at the end of the day, your ability to face those challenges and improvise along the way is crucial for the success of your campaign. 
Now, you've learned the basics of blockchain PR — from the challenges you might face to the KPIs that help you measure your campaign's success. It's important to remember that each campaign's core idea is understanding your target audience and giving them real value.
If you liked this article, feel free to share it with your colleagues and friends. If you want professional advice and help with your PR campaign, feel free to reach out to us.