Book a free consultation meeting!
In this article, we move through absolutely everything you need to know about finding and hiring a top crypto PR agency for your cryptocurrency project.
The Search For Top Crypto PR Agency: Finding the Best Crypto Public Relations Firm
Blockchain has expanded significantly over the past decade, coming a long way since it was composed of just bitcoin. As more blockchain companies startup, the need for partnering with a crypto PR agency has also grown, as competition has only become more fierce. Finding the right crypto marketing agency for you can be a difficult endeavor, especially if you don't know where to look. Considering this goes beyond just digital marketing, you'll have to search for the correct business to partner with for you.
With the rise of social media and the complete normalization of using the internet over the past ten years, the world of marketing has heavily changed. While the most sought-after forms of marketing were print or publication marketing, this is far from the case in the modern day. Digital marketing has continued to grow, amassing over 300 billion USD in global expenditure every year.
Source.
Blockchain marketing is a subsection of digital marketing, adding further levels of complexity that help to gain traction specifically with the cryptocurrency community. If you're about to launch your own crypto project, then you'll need to know that the PR agency you partner with can effectively carry out your campaign. Don't ever settle for generalist traditional digital marketing companies, as these often don't have the industry knowledge that you will require when running a crypto PR campaign.
In this article, we'll explore exactly how crypto PR is different from digital marketing, the benefits of working with a crypto PR agency, and demonstrate exactly how you can find the very best crypto PR agency for you.
Let's get right into it.
How Is Crypto PR Different From Traditional Digital PR?
Crypto public relations and traditional digital PR focus on completely different social areas. While generalist PR will target the most common marketing channels in an attempt to catch as many eyes as possible, crypto PR directly targets the blockchain community, hoping to gain traction within these specific circles.
That's not to say that crypto PR and traditional digital PR are completely different. After all, they are both forms of PR and deal with actively boosting public awareness around a marketing launch. However, traditional digital PR will often focus on certain channels, and make marketing decisions that simply do not align with crypto.
If you're about to launch a crypto product, you're likely familiar with the world of blockchain. This is not a particularly accepting place for new launches, with the fear of scams dating back to the radical rise all the way back in 2018. While traditional digital marketing PR has the sole focus of generating awareness, much of the early efforts by a crypto PR agency will focus on building trust with the audience.
Source.
Trust is essential when it comes to maneuvering within the world of blockchain, with a crypto PR agency understanding exactly how to market your coin to build up community support. Especially considering the vast majority of the general population still doesn't understand cryptocurrency, going to a generalist digital marketing firm is a phenomenal way of creating an ineffective campaign.
If you want specific results from a targeted community, which in this case is those interested in cryptocurrency, then you're always best going to a crypto PR agency that has knowledge of this area and can better structure your campaigns.
What Are The Benefits of Working With A Crypto PR Agency?
As mentioned previously, creating a generalist PR campaign often focuses only on creating a base of viewers for a product. If those viewers don't understand what cryptocurrency is, they are unlikely to even acknowledge your marketing efforts. Even when directly targeting the crypto community, many will feel uneasy about a new product until they have proof that it is a real launch.
Source.
Beyond just reaching people, that's why crypto PR is so important, as it allows people to gain trust in your crypto project. That element of transparency is vital, and is something at the forefront of all content creation when a crypto PR agency handles your campaign. Going beyond just building trust in the community, there are several more benefits of working with a crypto PR agency:
Knowledge of Crypto PR Avenues – The world of crypto PR and

crypto SEO

is completely different from that of traditional digital marketing. From different marketing channels to different targets and strategies, a crypto PR agency is able to point you in the right direction at every single turn. With their specific industry knowledge, you'll be much more prepared to step into the competitive world of

blockchain marketing

and come out on the other side with a devoted product fan base.
Brand Awareness Building – Creating brand awareness is one of the most important aspects of running a successful crypto marketing campaign. With the importance of generating trust, branding your company effectively is one of the most vital elements that you can access. Due to their direct experience with the community, crypto PR agencies are able to cultivate your brand image within the community, getting people to recognize you over time and then begin to see your brand as a great source of information. Down the line, this trust will lead to more investors in your crypto project.
Create Content Plans – Content planning, both for external and internal distribution, is one of the most essential parts of crypto PR strategy. From ensuring you have a range of PR releases to send to major crypto outlets to creating keyword-optimized content to post on your home blog, everything needs to be planned out carefully. Working with a crypto PR agency will ensure you partner with people that can create effective, educational, and captivating content for your crypto marketing launch. With this, you'll have more readers, grab people's attention, and ensure that everyone in the crypto community comes across your new crypto project.
Source.
When you find a top crypto marketing agency, you're able to access all of these benefits and more for your crypto project launch.
How To Find the Best Crypto PR Agency For You
After understanding the benefits of working with a crypto PR agency, you're on to actually finding one to work with. Although there are quite literally thousands of digital marketing agencies you could turn to, only a handful of those specialize in cryptocurrency and blockchain marketing services.
Alongside finding a company to launch your campaign, you also need to ensure you find the correct one for you, demonstrating experience in the type of crypto product you're going to launch. To find a top crypto PR agency, there are four main steps you should follow. These steps will allow you to make sure the company you chose goes as far as possible:
Compile Outreach Information

Make a List of Crypto PR Firms

Crypto Specialization

Screen Each
Let's break these down further.
Compile Outreach Information
The first step when looking for a crypto PR agency is to get your information in order, noting down everything that you need before contacting any potential agencies.
For example, you're going to need to work out:
What your budget is going to be – Knowing a rough figure of how much you want to spend on the campaign will help you know if some agencies are within your scope or not.
Source.
What is your main aim – While crypto PR targets a specific audience, there can be more than one main aim of a campaign. Are you running this campaign as an initial way to build brand awareness? What about increasing social media followers? Depending on your main target, the aim you share with a crypto PR agency will alter their strategy going forward.
How long are you going to want to run the campaign for – Working out how long you want to run your campaign for will help align with budget expectations. This will inform the type of campaign you run and will help shape your overall expectations from the project.
What does your product offer – Creating a whitepaper and a detailed breakdown of what your product does and the value it generates is vital. Not only does having this information ready to share make your crypto project more trustworthy, but it will also help any campaign managers you talk to understand how to market your product better. This will always be something that comes up in any initial discussions you have with a crypto PR agency.
Have you done pre-optimization – When running a marketing campaign, you'll be pulling in a range of different visitors to your main site. If you haven't then optimized your site and built a comprehensive space, then you'll be directing new visitors to a dead end. Be sure to spend time creating a comprehensive home site, with a range of information that future investors can read more about your product on. Always make sure your website is as ready as possible before starting any external marketing efforts.
Make a note of your responses to all of these different questions, as they'll help to share both your initial discussions with a crypto PR agency, as well as create a more cohesive strategy going forward.
Make a List of Crypto PR Firms
After you have all of the basic information gathered together, you're then able to turn to finding a range of potential crypto PR agencies to partner with. There are several ways of going about this, each of them with their unique benefits.
Typically, blockchain companies can find crypto PR firms through one of the following methods:
Google Searches – By typing in a semantic variant of crypto PR firm, crypto PR agency, or anything to that effect, you'll receive a list of different possibilities that you can then decide upon. The advantage of this strategy is that you're often met with some of the largest and most well-established crypto PR agencies. However, a large budget for marketing doesn't always equal quality, so you should always check their portfolio and past client reviews first.
Recommendations – If you're actively working in the blockchain industry, then reaching out to others that you've come into contact with and asking for recommendations can be a fantastic way of finding a crypto PR agency. If a friendly brand has recently worked with a great agency, them passing on a contact name can help you tremendously. The main advantage here is that you can often get the marketing firm's work for slightly cheaper through recommendations and referrals.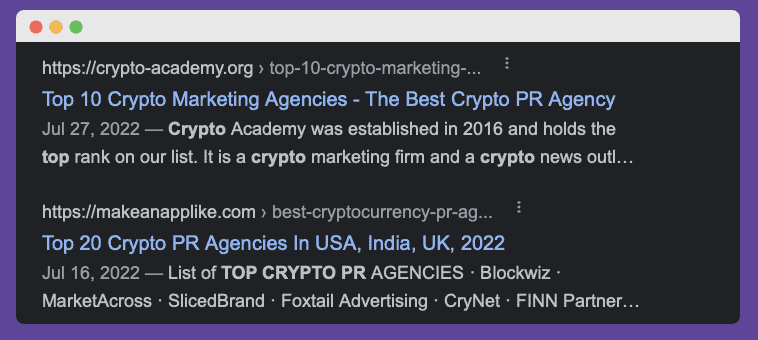 Top Lists – Online, you're able to find a range of different listicles that display top crypto PR brands. The main advantage of these is that they make finding lots of companies easy, with some of these lists displaying upward of twenty active companies at once. This makes it incredibly swift to find a range of companies that you can then reach out to. The main disadvantage here is that these lists are normally commissioned by a crypto PR agency, so be sure to double check any you come across here to ensure they're not just on the list as they paid to be there.
Across these three methods, you'll be able to find a range of different crypto PR agencies that you can then reach out to.
Crypto Specialization?
Alongside finding blockchain marketing agencies, you should also take a moment to move through each of their websites and look for what form of cryptocurrency marketing they specialize in. When launching a crypto product, you could be doing anything from a baseline coin to a GameFi token, with the different potential background of your coin creating a different marketing need.
Depending on what your specific brand is, which should have been established in the first step when asking yourself questions, you're then able to narrow your search even more. Instead of just finding a crypto marketing agency, you can look for agencies that have a background in the type of cryptocurrency promotion that you're looking for.
The more in-depth you go with your pairing, the more effective the marketing campaign that the crypto brand can create for you, with this extra screening step being wonderful for finding the perfect candidate for you.
Screen Each
The final step of finding the perfect crypto PR agency for you is to screen the brands that you've found. At this point, you most likely have around 3-5 potential companies that you could work with, each of which might offer something slightly different. As cryptocurrency is a very precise industry, you want to find the one that best matches with you.
There are several things you should look out for when screening each of your potential options:
Website structure – Spend some time on their company website, simply moving around the site and mapping out a general structure. If their website has any broken links, or a generally bad structure that's hard to navigate, you might have stumbled on a sign that they don't take care of their site. If they're not working on their own site, which actively generates them leads, then their external marketing quality might be low.
Case studies – A great crypto PR agency will have a range of case studies that demonstrate them running previous campaigns successfully. In this category, even more bonus points if one of their featured case studies deals with a similar crypto style as the product you're about to launch.
Active Blog – One final sign that a company is trustworthy is if they have an active blog section. When partnering with a crypto marketing agency, you're going to expect them to generate things like content plans and continual content for your business. Their own home blog is a good indicator to the quality that they put into their work. Additionally, if they have a regular posting calendar, with a few articles posted each week, then you've likely found a great candidate.
After you've gone through each of these areas and have ensured that the company you want to work with tick all the boxes, you should then reach out to set up a call.
Final Thoughts on Hiring a Top Crypto PR Agency
While finding a crypto PR agency isn't a particularly difficult task, finding one that will create excellent campaigns for your business might be a little more of a struggle. But, by incorporating the above tips, you'll be able to streamline the process and find a range of perfect candidates for your business. With this, you can get started on your crypto PR agency marketing launch in no time at all.
If you want to speed up the process for yourself even further, then reach out to GuerrillaBuzz today. We have years of experience working with cryptocurrency marketing projects, specializing in crypto SEO services, and having extensive knowledge of blockchain PR. From our invaluable media connections to our dedicated team that always goes above and beyond, we're the top crypto PR agency in the business.
Get in contact today and schedule your initial meeting to see exactly what we can do for you.