Book a free consultation meeting!
Read along as we explain absolutely everything you need to know about crypto marketing and how to succeed in your next campaign.
Launching a Successful Crypto Marketing Campaign for Crypto Companies

Over the past decade, cryptocurrency has moved from a relatively unheard-of niche currency into a global phenomenon with millions of holders and billions of total value. At its high, the cryptocurrency market was worth around 2.6 trillion USD, demonstrating the extent to which this market has become saturated with different Altcoins fighting for a top spot. If you're looking to launch your own crypto marketing campaign, then you're going to have to battle against fierce competition and make use of a range of blockchain marketing strategies to put you on top.
Although the world of blockchain marketing is distinct to that of traditional digital marketing, they do indeed share a range of similarities. Often, these two distinct fields will use similar strategies, by different mediums. Alternatively, they'll use the same medium but focus on different audiences, often mirroring each other.
Source.
If you haven't launched a crypto marketing campaign before, then you might be wondering where to begin. As this is a financial market with a lot of competition, you need to think through your campaign strategy before launching it. Without proper preparation, you'll end up with a campaign that doesn't best reflect your company.
In this article, to make sure that you're ready to launch a successful crypto marketing campaign, we'll outline all of the steps and considerations that you should take into account before beginning.
This is an extensive guide that will cover:
What a crypto marketing campaign entails

Checklist of things to do before launching your marketing campaign

Best crypto marketing avenues

Best crypto marketing practices

How to boost chances of success
Let's get right into it.
What is a crypto marketing campaign?
Within the world of blockchain, there are many different deployments that your business could focus on. Whether you're trying to launch a crypto exchange, an NFT collection, or a cryptocurrency, the marketing techniques and strategies that you employ will radically change. Due to this, it's important to focus in on the crypto marketing side of blockchain when you're looking to release a new cryptocurrency.
Crypto marketing is the act of publicizing the launch and usage of the coin you're releasing, sharing its launch with the world, and ensuring that they take notice. Within the blockchain community, the main goal with these campaigns is to establish your coin as reputable, trustworthy, and useful.
Cryptocurrencies without functionality only have as much value as people assign to them, which is why you should always ensure the product that you're launching has a genuine function or purpose. Especially considering the history of crypto scams, with 2018 seeing over 80% of all ICOs stealing money, people won't be interested in your coin if you cannot prove why it's worth the investment.
Source.
In short, crypto marketing is all about explaining to the blockchain community why they should invest in your cryptocurrency. Depending on the specific function or ideas behind your currency, the main reasons you push forward will change, but the marketing channels and practices you employ will stay the same.
Checklist of things to do before you launch your crypto marketing campaign
With the sole purpose of a marketing campaign to generate more interest and movement toward your cryptocurrency platform, you need to make sure that what people find after they see your advertisements is equally as impressive. If you have a huge media campaign but a terrible website, even if you do manage to get people on your site, they'll quickly leave.
Due to this, there are a range of things that you should focus on first before launching your crypto marketing campaign. These will ensure that all of your fundamentals are in order, helping you to have a fantastic platform to launch from. The checklist is as follows:
Well-Designed Website

SEO Optimized Site

Market Research

Whitepaper

Social Media Accounts
Let's break each of these down.
Well-Designed Website
Whenever someone finds out about your cryptocurrency, the very first thing that they're going to want to do is learn more about it. Alongside reading other blog posts or press releases, they'll most likely find their way onto your official website. A brand's website is the beating heart of their business; it acts as a central location where people can go to interact, learn more, or simply browse through your product.
As a cryptocurrency, you're going to have to work hard to earn the trust of the blockchain community. Due to this, having a well-crafted website is always the first step toward making a great first impression. You should ensure that your website carries your company's branding fundamentals through all of its pages, creating a comprehensive and consistent color and style story.
Source.
Consistent branding can increase sales by nearly 30%, demonstrating the importance of getting this in order before you launch your campaign. By choosing a company logo and color scheme that matches your intentions, you'll be able to create a compelling visual story that will boost the likelihood of people investing in your currency.
Even if you're not a designer, due to the availability of freelance graphic designers on websites like Fiverr or Upwork, you're able to quickly find someone that can help you out in this department.
SEO Friendly Site Helps Your Crypto Marketing Campaign
Alongside having a well-designed website, you also need to have a well-optimized website in terms of crypto SEO. SEO is the acronym for Search Engine Optimization, which is the act of ensuring a webpage ranks well within the Google rankings. These rankings are determined by a range of different factors, several of which are determined by the quality of the on-page optimization.
On-page optimization is about ensuring all of the content, structures, and images included on a webpage are well constructed. Within a crypto website, this means you should be attempting to hit your crypto keywords throughout each page, optimizing all of your individual blog posts and service pages to focus on one area.
Additionally, you should ensure that photos are well-optimized, by giving them an ALT text and appropriate title, you allow screen readers to access them. Online web accessibility is a huge part of SEO which is often overlooked, with compliance with the ADA and WCAG 2.0 guidelines being essential.
Market Research
If you're launching a new cryptocurrency, then you will almost definitely be interacting with the blockchain community to do it, as crypto and blockchain are inseparable. But, going beyond this, you should ensure that you've done the market research to see exactly where your cryptocurrency could fit in with the wider trends that we're currently seeing.
For example, by using keyword research tools like SemRush, you'll be able to see which other crypto companies are launching crypto marketing campaigns for certain keywords, seeing where they rank and other useful information. By reviewing what your competitors are currently doing, you'll have a lot of inspiration for your own campaign, as well as a general idea of what certain features are currently performing well.
Source.
Alongside this, you should make sure that you perform future market research for the certain keywords that you'll be focusing your future blogging campaign strategies on. In fact, companies that have a blog receive over twice the amount of traffic as companies that don't, demonstrating that having and maintaining a blog is a vital part of effective crypto marketing.
You should perform these two core elements of market research before starting your campaign, as they will provide a lot of guidance and structure down the line.
Whitepaper Production for your Crypto Marketing Campaign
A whitepaper is a technical document that outlines absolutely everything that a general investor would need to know about your brand. From the central tokenomics that you're using to the actual usages and blockchain chain that you're using to host the coin, you should include everything within this whitepaper.
In fact, these are so important that any crypto marketing campaign launched without a stable whitepaper to look at will most likely fail. This is simply due to the fact that a whitepaper is the very first thing that an investor will look for when they open your website. As this document has all the information they need to know more about your company, without this, you'll lose out on a large amount of potential investment.
Always ensure that your whitepaper is well made and detailed, giving absolutely all the information on your product that you need.
Social Media Accounts
When you're creating and launching a business, you need to make sure that it is as comprehensive as possible, with a large part of that being expanding to cover many different social avenues. While there are a few social media avenues that are better for crypto marketing than others, as we'll discuss later, that doesn't mean you should cast the net as wide as possible.
Before you launch your crypto marketing campaign, you should create a range of different social media accounts. These will cover all of the most popular social media platforms, making sure that people can find your accounts no matter what platform they're using.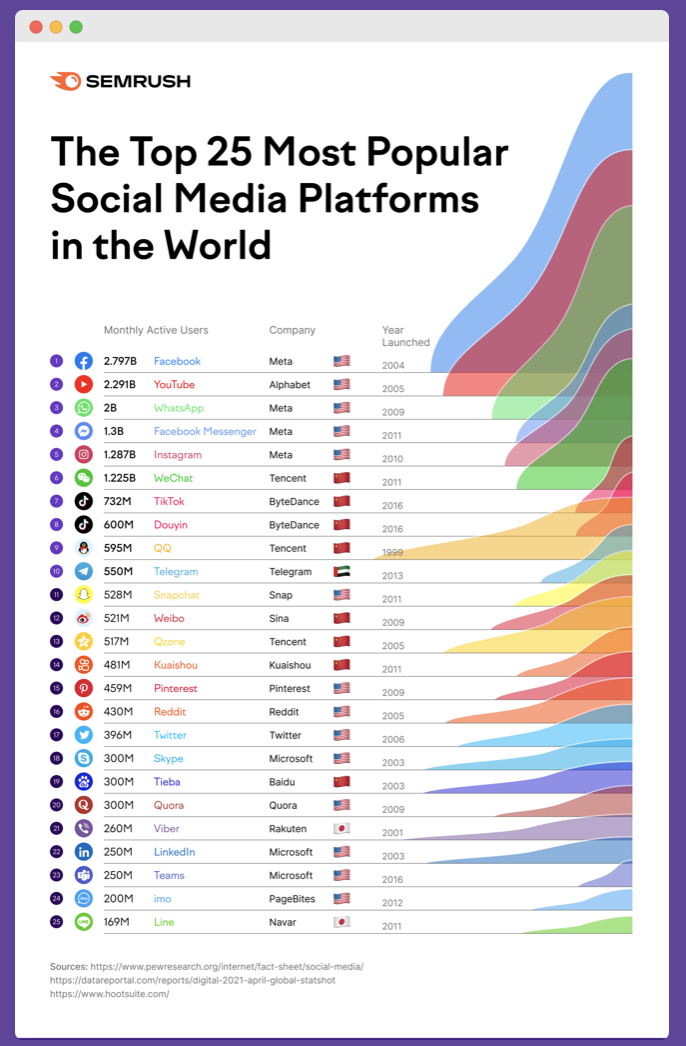 Source.
These social media accounts will help you connect with your audience, while also providing a great base for you to post onto to boost the reach of any social posts that you do.
With these elements checked off, you'll be ready to launch a fantastic crypto marketing campaign.
What are the best crypto marketing avenues?
When it comes to creating and launching a successful crypto marketing campaign, many digital marketing experts select the wrong marketing avenues. While platforms like Facebook as fantastic for traditional digital marketing, they fall short when it comes to effective crypto marketing. This is due to Facebook's history with crypto, actually banning all advertising slots that related to crypto for over a year in 2018.
Although this ban was undone, the aftershocks remain, with the crypto community favoring other locations and marketing avenues. This change is one of the main reasons why it's so important to ensure you are working to crypto marketing strategies, not simply reproducing digital marketing content and ideas you've seen or used elsewhere.
Typically, there are four main crypto marketing avenues that you should take advantage of. You can use each of these to great effect, with crypto marketing being most impactful within these four streams:
Reddit

Influencer Marketing

Guest Posting

Podcasts
Let's break these down further.
Reddit and Alternative Social Media
While Reddit is a very popular social media, with over 48 million monthly users, it is one of the least used marketing avenues in traditional media. This is certainly not the case within crypto PR campaigns, as Reddit is actually one of the leading social media platforms for the blockchain community.
With millions of active users, all who subscribe to subreddits that are related to cryptocurrency, those that turn to Reddit will find a huge audience to interact with. By posting on crypto-related forums, marketing campaign managers are able to create an interest in their platform. You can do this by posting information about your project, articles that you've written on the company blog, or uploading links to podcast episodes or other information that you've found online.
Source.
With Reddit, just like other alternative social media sites like SteemIt, it only takes one article going viral for you to get a huge influx of views on your campaign. What's more, due to the fact that Reddit is completely free to post on, you can run this segment of the campaign without incurring any additional costs. This is what makes these alternative forms of social media management so important – they're high impact and low cost.
Influencer Marketing
Another fantastic avenue for crypto PR and marketing campaigns is focusing on utilizing influencer marketing. In the world of digital marketing, influencer marketing is a high ROI strategy of gaining interest in your product. In fact, 71% of marketing campaign managers consider influencer marketing one of the best possible forms of marketing that you can currently use.
Going beyond this, the world of crypto influencer marketing is even more impactful, as a large part of the success of cryptocurrency companies falls back on how trusted they are by the community. When you partner with an influencer, you are gaining access to their whole web of followers.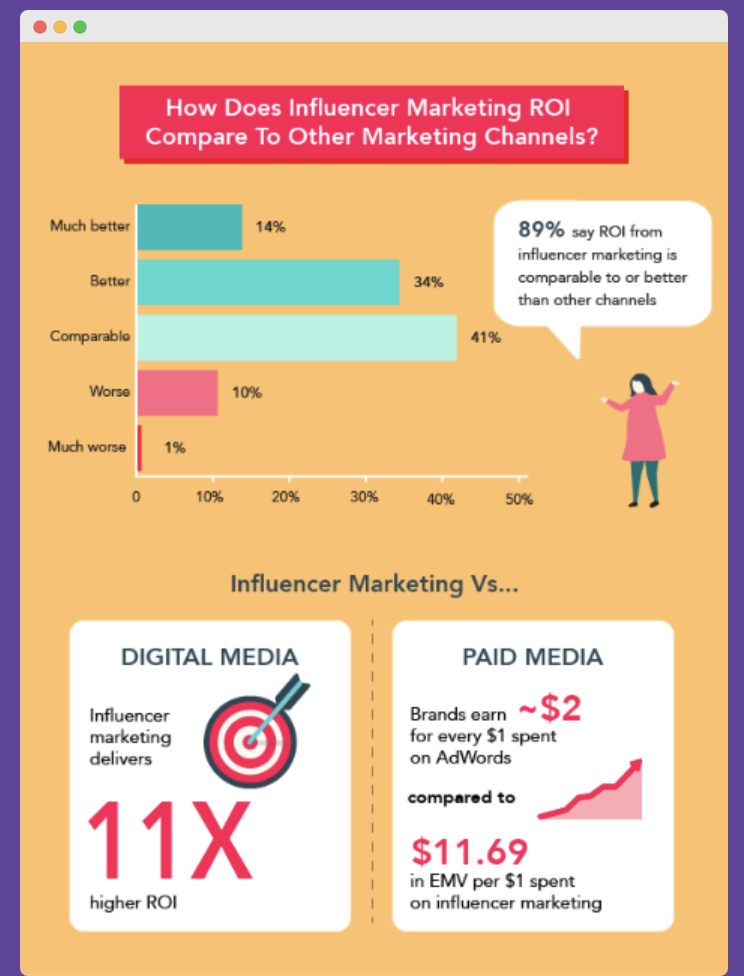 Source.
These followers have joined their community for a reason, often trusting the main person and following their advice. When marketing through influencers, you're able to get your crypto in front of a range of people for comparatively little cost. What's more, you can rapidly build trust with these people as they are getting a referral or vote of confidence through an influencer that they trust.
This effectively kills two birds with one stone, helping you to reach lots of people while also building trust at the drop of a hat.
Guest Posting during your Crypto Marketing Campaign
Another vital crypto marketing avenue to make use of is other cryptocurrency companies as well as the plethora of different news outlets that cover cryptocurrency information. By creating educational and useful content that is then put onto other websites, you're able to build up your company's name as a valuable resource within the industry. Over time, this will lead you to have more connections and a higher degree of trust when it comes to launching your crypto marketing campaigns.
What's more, by posting on other sites, you're able to cultivate backlinks that point towards your website. With this, you'll be able to work on off-site crypto SEO, ensuring that your website has even more of the features that top-ranking websites will have.
Source.
The more backlinks you acquire, the better off your ranking will be when it comes to the major search engines. These are one of the most important elements of off-page SEO.
Podcasts
Building up a reputation within the world of cryptocurrency is all about trust. One of the best ways to make a community trust you is to demonstrate you're a knowledgeable and insightful voice in this community. An outreach method that you can use when it comes to this is turning to podcasting.
By getting on podcasts within the crypto community, you'll often have an entire hour of time to talk about your project, demonstrate your knowledge, and impress the host and listeners. Over time, having appearances within the crypto community will demonstrate that you're committed to the currency you're talking about in your crypto marketing campaign, helping you to capture a larger segment of the audience.
What are the best crypto marketing practises?
Alongside certain crypto marketing avenues that you should focus on, you should also be turning towards a handful of core practices that have a proven history in the world of blockchain of helping your brand progress.
These four practices are some of the most effective forms of crypto marketing that you can carry out, often having very high-impact results. They are:
Airdrops

Expand Post Reach

Affiliate Marketing Schemes

Content Marketing
Let's break these down further.
Airdrops within a Crypto Marketing Campaign
Crypto airdrops are the act of giving out small amounts of your cryptocurrency in exchange for people performing a certain task. In the world of blockchain, that task is typically sharing a post that talks about your crypto launch. With this, you're able to access everyone that follows this person, radically boosting the scope of your launch with a tiny cost.
Airdrops are one of the most effective ways of gaining traction within a crypto marketing project, equally because the more people that own your coin, the more likely it is to increase in value. Due to this, you should always have some form of airdrop event at the start of your marketing campaign.
Expand Your Post Reach
Another element that you should strive to include within your crypto marketing campaign is a cross-platform posting style. When you write a blog, you should then post that blog all across your social media platforms, on Reddit, on Steemit, and anywhere else you have social connections.
Over time, this will ensure that more people see your content, leading to more conversions down the line.
Affiliate Marketing
Much like influencer marketing, affiliate marketing is one of the most effective strategies for crypto marketing as it allows you to rely on other people's networks of trust.
Source.
This is continually one of the most effective crypto marketing strategies that you should rely on. Be sure to set up an affiliate platform for those that want to talk about and share information about your crypto launch.
Content Marketing for Crypto Marketing Success
Finally, we come on to the holy grail of crypto marketing – content marketing. Creating useful and educational content for the blockchain community that you post to your blog will ensure that you start to gain natural traffic to your site.
As people see that your company is providing useful content without simply promoting your cryptocurrency 24/7, they will begin to trust your brand more. Over time, this will lead to more people exploring around the blog, reading more about your product, and investing in your cryptocurrency.
Content marketing and the distribution through your social networks is one of the most advanced and useful methods of crypto marketing that you should be using.
Final Thoughts on Crypto Marketing
When launching a crypto marketing campaign, your first thought might be to produce as much content as quickly as possible. While the blockchain community is incredibly fast-moving, this is often one of the least effective approaches. Instead, you should carefully plan out your campaign, ensuring that you've hit all of the boxes and have a formalized plan before you launch.
One of the best ways of ensuring the success of your crypto marketing campaign is to work with a crypto PR and marketing agency. At GuerrillaBuzz, we have years of experience in launching highly-customized and effective crypto marketing campaigns. No matter what stage of your process you're currently in, we offer total blockchain marketing services that we can offer to you.
By working with GuerrillaBuzz, you'll have a designated team of experts that are looking to help you succeed. Get in contact with us today for even more information on how we can work together on your crypto marketing launch.