Book a free consultation meeting!
Web3 Marketing Strategies: Unlocking Greater Exposure and Achieving Leadership in Your Industry
Web3 marketing might seem like a walk in the park due to its novelty, but it's far from simple. The Web3 world has expanded at a breakneck pace in recent years, unfolding a plethora of fascinating opportunities. However, it's not without challenges. Given the close ties with the unpredictable crypto industry, the Web3 audience tends to be quite cautious. The memory of scams, hacks, and disappointments has made people skeptical, making the Web3 space more complex than it appears. A quick look at Web3 Is Going Just Great leaderboard can give you a better understanding of why marketing in the Web3 industry is so challenging.
At GuerrillaBuzz, we've been knee-deep in the crypto space since 2017. We've witnessed everything—the ICO explosion, the brief STO phase, the rise of NFTs, and now the reign of Web3. Along the way, we've developed marketing tricks that transformed ordinary projects into industry leaders.
In this article, I'll share some top-notch Web3 marketing strategies that can supercharge your campaigns and boost your company's exposure. Ready to dive in? Let's go!
What Are Web3 Marketing Strategies?: Definition
Web3 marketing strategies involve planning and executing your marketing campaign within the Web3 space. This starts from brainstorming all the way to execution. Your strategy serves as a roadmap to navigate through the various highs and lows of your campaign. Due to the highly dynamic nature of the Web3 industry, your strategy might need to adapt and evolve throughout the campaign. This agility is essential given the frequent changes that come with this nascent field.
Importance of Web3 Marketing Strategies
Having Web3 marketing strategies is essential before and during the launch of your Web3 marketing campaign. It all starts with solid foundations, such as a well-designed and secure website that clearly communicates your brand's message to users. This also includes a robust social media presence, a skilled team, and a reliable technology infrastructure.
Once these bases are covered, the focus of Web3 strategies shifts to differentiating your company, putting your brand in a positive spotlight, and getting your name and ideas out there. Running marketing activities without a strategic plan is like sailing a ship without a compass—you might make some progress, but reaching your intended destination becomes a game of chance.
Why Use Web3 Marketing Strategies to Boost Your Marketing Efforts
1. Boost Transparency and Trust
Trust, a cornerstone of Web3 campaigns, can't be bought. It's crafted through transparency. Your strategy should be aimed at fostering this trust. When done right, it's your secret growth catalyst in the crypto community.
2. Differentiate
The Web3 landscape is crowded. Stand out, don't be just another generic brand. To attract users and investors, uniqueness is key. From design to PR, being unique makes you memorable and talk-worthy in this busy ecosystem.
Strategy is your lighthouse amidst unforeseen events. Planning and execution don't always align, and things may not go as smoothly as envisioned. A Web3 marketing strategy serves as a flexible guide, providing an approach and larger perspective rather than rigid instructions. It's your compass in the unpredictable journey of a Web3 company.
Key Web3 Marketing Strategies
There are numerous strategies and approaches you can adopt in Web3 marketing. What we'll share here isn't taught in classrooms or found in textbooks—these are insights we've gained from real-world experience, launching Web3 marketing campaigns for numerous companies. Our hard work, dedication, successes, and failures have honed a strategy we know can boost a Web3 company's chance of success in its marketing campaign.
Before we delve deeper into each of these key strategies, here's a concise summary presented in a straightforward table. This gives an overview of the various approaches we recommend for implementing in your Web3 marketing efforts:
| Key Web3 Marketing Strategies | Strategy Description | Potential Impact |
| --- | --- | --- |
| Use Bottom-Up Approach | Mirror your company's actual status. Engage with community members and participate in local events. | Fosters genuine interaction; cultivates bottom-up growth |
| Integrate Content Marketing in All Activities | Utilize SEO as a critical growth lever. Diversify marketing and PR efforts. | Improves Google rankings; secures long-term growth |
| Broaden Your Target Audience | Avoid limiting your reach to the crypto community. Connect with non-technical/non-crypto audiences. | Extends reach beyond the crypto sphere; attracts more users/investors |
| Go for Extreme Transparency | Turn transparency into your strength. Display team profiles, credit authors, and share team achievements. | Builds trust; deepens connection with your audience |
1. Use Bottom-Up Approach
Many companies in the crypto and Web3 space try to project an image larger than life, appearing more successful than they truly are, hoping to attract investments. In some cases, it might work, but our observations suggest it's not the norm. It's often more beneficial to mirror your company's actual status through the following:
Share your successes and failures;
Discuss real milestones;
Engage with community members;
Conduct AMAs even in smaller communities; and
Participate in local events, not just high-cost blockchain conferences.
Activities like interacting on Reddit, showcasing your developers in various forums, and garnering real users for your Web3 product build trust. It's this genuine interaction that cultivates solid, bottom-up growth.
2. Integrate Content Marketing in All Activities
SEO, often sidelined in crypto and Web3 marketing, is a critical growth lever, especially during tight budgets or bear markets. Start with a high-quality blog targeting your audience. Then, diversify marketing and PR efforts to link back not just to your homepage, but to strategic blog pages and content-rich areas of your site. This approach improves your Google rankings across multiple pages. With solid SEO foundations, strategic keyword use, and quality content, you'll be positioned for long-term growth, outpacing competitors who depend solely on paid traffic.
3. Broaden Your Target Audience
Many Web3 companies focus solely on the crypto community, inadvertently limiting their reach. By doing so, they miss out on potential users and investors outside this niche. It's crucial to understand the balance. While the crypto community is vital and can drive rapid growth, it's also beneficial to connect with non-technical/non-crypto audiences. From content creation to PR efforts, make sure to find the right balance and extend your reach beyond the crypto sphere for your project.
4. Go for Extreme Transparency
In the crypto space, many companies avoid sharing team details on their sites, limiting transparency with their audiences and potential investors. Turn this common weakness into your strength—extreme transparency is key. Ensure your team has well-structured LinkedIn profiles, display user profiles on your site, credit authors for blog posts, and share quotes, ideas, and achievements by team members on social channels. This not only builds trust but also complements the bottom-up approach mentioned earlier, establishing a deeper connection with your audience.
Important Web3 Marketing Channels to Strengthen Your Strategy and Expand Reach
Navigating the vast landscape of marketing channels can be overwhelming, especially when your goal is to promote your Web3 company. With countless sites and channels at your disposal, identifying the most relevant ones is crucial to effectively focus your efforts and resources. At GuerrillaBuzz, we have compiled a list of marketing channels that consistently yield excellent results for the Web3 companies we have partnered with:
| Marketing Channel | Brief Description | Benefits |
| --- | --- | --- |
| Reddit | An online platform with crypto-focused subreddits | Engage with millions of crypto enthusiasts and potential users/investors |
| AMAs | Interactive sessions where questions are answered | Foster brand transparency, authority, and derive actionable product insights |
| Hackathons | Competitive software creation events | Illustrate commitment, create brand ambassadors, and enhance ecosystem credibility |
| Hacker News | A social news website with a tech and entrepreneurship focus | Now more receptive to Web3 projects; ideal for sharing top-notch content and releases |
| Twitter | A social media platform for networking and microblogging | A powerful tool for establishing relations with other Web3 companies |
| Influencers | Notable individuals within the crypto/Web3 space | Look beyond just crypto influencers; consider devrels, solidity coding streamers on platforms like Twitch to acquire actual users |
| Conferences | Gatherings of individuals within the Web3 space | Enhance brand authority and seek out passionate advocates, don't overlook smaller events |
| Steemit | A blockchain-based blogging and social media site | Popular in Asia, offers an opportunity to expand your reach into new markets |
| Web3 PR | Public relations within the Web3 space | Elevate project awareness and strengthen authority. Note: Consider a professional agency for optimal results. |
| Discord, Telegram, and Slack | Online messaging platforms with community capabilities | Build a genuine community of active users. Note: Avoid buying fake users, a small real community trumps a large fake one. |
Implementing Web3 Marketing Strategies Effectively
Understanding the importance of Web3 marketing strategies is one thing, but how can you implement them effectively? Here's a step-by-step guide to help you translate knowledge into action:
1. Brainstorm
This is where your strategy starts to take shape. Gather your team and begin brainstorming the potential strategies you'd like to employ. Be inspired by successful campaigns, learn from failures, and don't hesitate to incorporate unique ideas. This step is all about innovation and creativity.
2. Create an Action Plan
Once you've brainstormed, it's time to streamline your ideas into a clear and actionable plan. Outline the strategies you want to implement, assign roles and responsibilities to your team, and make sure everyone is on the same page. This step is about organization and delegation.
3. Build a Timeline
Now, it's time to take your action plan and align it with a timeline. Define the different stages of your campaign, from pre-launch to launch to post-launch. Understand that each stage will require a different focus and set of strategies. This step is about foresight and planning.
4. Run the Campaign (In-House Vs. Agency)
The next decision you'll need to make is whether to run the campaign in-house or hire a specialized Web3 marketing agency. Running it in-house could allow greater control, but working with an agency brings in industry expertise and a wealth of connections. Consider your resources, skills, and the size of your campaign before making this decision.
5. Execute the Plan
With everything planned out, it's time for action. Ensure that your team is well-coordinated and has a clear understanding of their tasks. Maintain open communication channels and make sure to keep track of your campaign's progress. This step is all about implementation and coordination.
6. Measure, Learn, Improve, and Improve the Execution
The final step is a continuous cycle of measurement, learning, and improvement. Use the metrics defined in your action plan to measure your campaign's success. Analyze these results to gain insights into what's working and what's not. These learnings should then be used to refine and improve your strategies for better execution. Remember, marketing is an iterative process; there's always room for enhancement.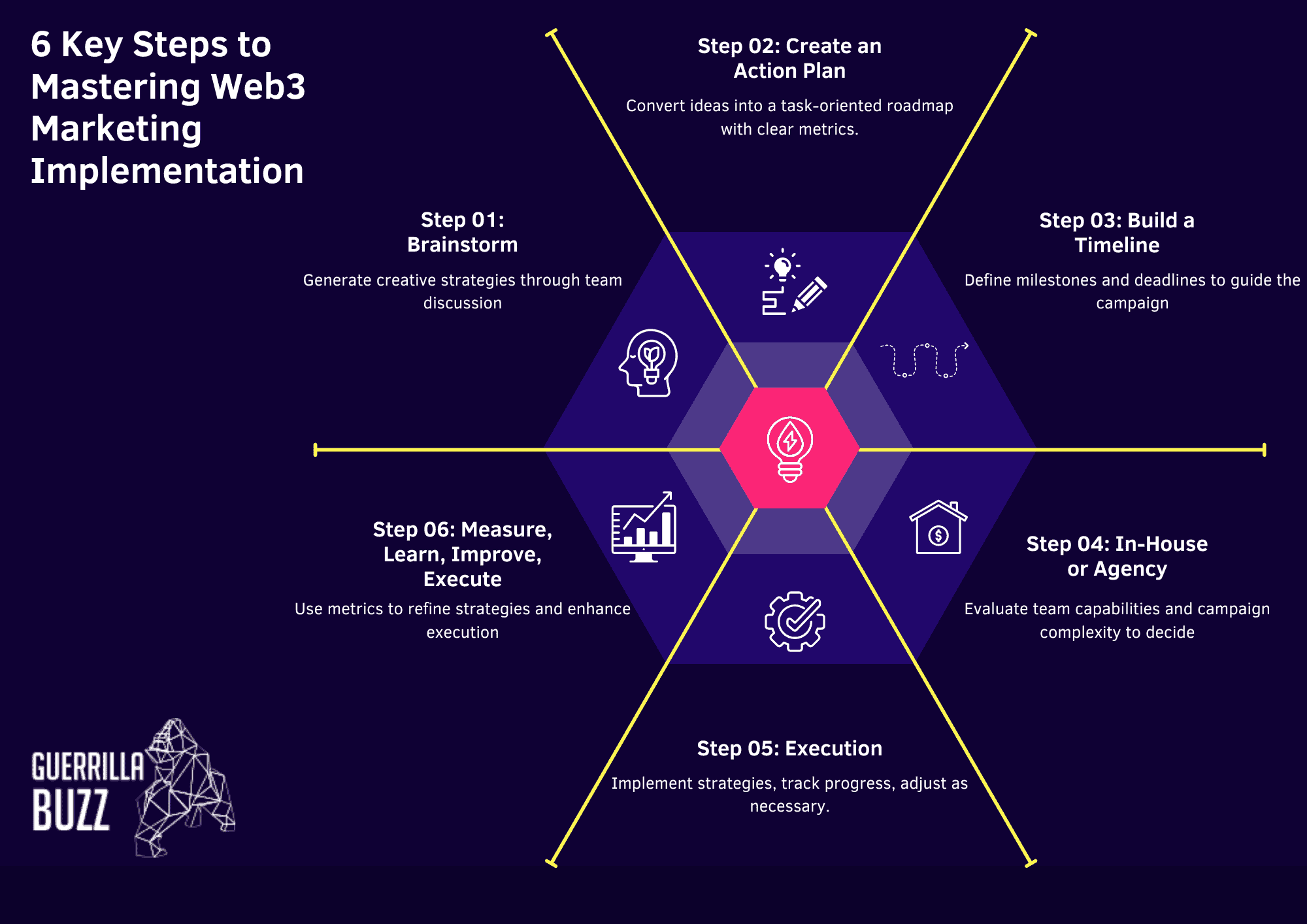 Conclusion
In the ever-evolving Web3 landscape, robust marketing strategies are essential. The key ingredients include trust, tailored content marketing, a wide target audience, and extreme transparency. Successfully navigating through this terrain requires a balance between authenticity and marketing prowess, adapting to market shifts, and extending reach beyond the crypto community.
While considering professionals to guide your marketing efforts can be beneficial, it's your unique approach that will truly set your brand apart. The world of Web3 may be complex, but it is also ripe with opportunities for those ready to leverage it with effective strategies. Embark on this journey armed with strategic foresight and an adaptable mindset, ready to transform challenges into stepping stones toward success.