Book a free consultation meeting!
Top Crypto Marketing Channels: Finding the Best Channel To Promote Your Crypto Project
When launching a new cryptocurrency, one of the most important elements that you need to get right is the marketing campaigns you create alongside the launch. While there are many different crypto marketing channels, not all of them work equally well. Especially when compared to traditional digital marketing, the favored channels might actually be very ineffective when it comes to cryptocurrency.
In fact, around 96% of Americans still don't understand basic ideas about how cryptocurrency works or even what it is, meaning that traditional marketing streams with a high percentage of people without this knowledge will only very rarely work for your business.
Source.
To help you create the perfect product launch, we've collected a list of the top crypto marketing channels that you can use for your blockchain business. Each one of these channels has a large audience of people that are interested in cryptocurrency, allowing you to create marketing materials with a much higher engagement and conversion rate.
By the end of this article, you'll be a pro when it comes to understanding which crypto marketing channels you should use for different situations. Let's get right into it.
Natural Article Traffic
While blockchain companies can conduct cryptocurrency marketing in a variety of different ways, one of the most effective for long-term growth and ultimate business sustainability is by focusing on their own domain. Constructing an active and useful blog for your business is an incredibly effective way of gaining natural traffic and increasing the amount of intrigue people have in your business.
In fact, blogs are so important that 72% of marketing teams describe content creation as their single most effective marketing tactic. This goes back to the fact that creating a blog provides marketing teams a space to conduct SEO keyword implementation, building up a range of articles that simultaneously help their audience while also pushing them up the search engine results pages. Always make sure you do extensive crypto keyword research before committing to article titles.
Source.
When planning out what sort of blogs to write for your crypto marketing campaign, you should consider which main keywords are going to be most useful for you. If you offer a specific function with your cryptos – perhaps you have a P2E product or fit into a similar industry – then you can focus on keywords in this niche.
While there are a whole host of SEO tools that you can turn to, if you're looking for a free tool that you can get started with right away, then Google Keyword Planner is a great place to start.
How To Use Google Keyword Planner For Crypto SEO Marketing
Within Google Keyword Planner, you can type in common associations that you have with your business. Within the crypto niche, this could be words like 'crypto', 'cryptocurrency', 'blockchain', or others that align with the blockchain product that you're offering.
By searching for these key terms, you're able to then get a range of information that informs you about the relative search volume, competition, and likelihood of ranking for these words. With this, you're then able to understand which keywords you should be targeted for your content creation.
After you have collected a few keywords which have high search volumes but medium or low competition, you'll then be able to start to generate content using these particular keywords. These keywords will provide the basis for our content generation, allowing you to create highly-impactful blogs for your business in terms of SEO potential.
Alongside simply laying the foundation for a continuous flow of natural traffic, the creation of these articles will also ensure that you're helping your audience and teaching them more about your industry. Over time, this will help you boost your brand awareness and establish yourself within the crypto community.
Influencer Marketing
When working on accessing crypto marketing channels, many projects fail to gain traction as they don't have enough history within the industry to be seen as trustworthy projects by those within the community. Especially if you're new in this world, this can be a huge problem for getting your crypto PR campaign off the ground.
One of the most effective ways of overcoming this and ensuring that a community of people that trust and engage with your brand sees your content is to turn to influencer marketing. Crypto influencer marketing, which is where you actively partner with someone with a large following within the community who then promotes your product, is incredibly effective.
Even in traditional digital marketing, more and more teams are turning toward influencer marketing as it has an incredibly high ROI, alongside a rising engagement factor with younger audiences. In fact, with a rising interest in this field, with 90% of users paying attention to influencer recommendations, this is by far one of the leading ways to gain attention within this industry.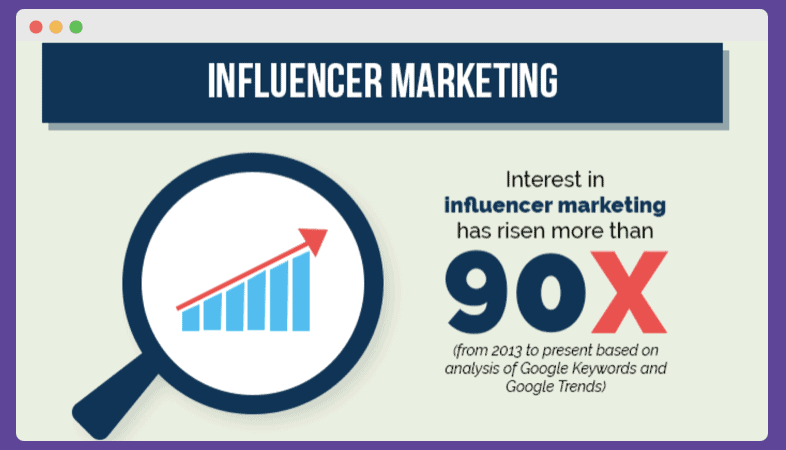 Source.
Why Does Crypto Influencer Marketing Work So Well?
The main reason that influencer marketing is so effective as a crypto marketing channel is that influencers carry a degree of trust. When putting out a PPC advertisement, a site like Facebook will display the ad to a recommendation audience. Although they could have an interest in the content, they didn't ask to see your advertisement, nor have any social obligation to spend time researching your company after they encounter information about you.
However, people actively choose to follow certain influencers, enjoying the content they produce and their general personalities. With this, when an influencer posts one of your advertisements or talks directly about your crypto project, then you're able to access a highly-trusting audience that has faith in the influencer and what they're saying.
Instead of taking part in the uphill battle which new crypto companies traditionally have to deal with, you're able to access a highly trusting audience. This helps you surpass the difficulty of building a trusting market base as you can use the influencer's to gain early momentum. If the influencer demonstrates why they like your product, you'll have a highly effective crypto marketing channel at your disposal.
What's more, there are a huge amount of crypto influencers out there, meaning that you can find one that matches your budget and price range. With this considered, influencer marketing can become a low-investment and high-reward channel for you to turn toward.
Reddit + SteemIt
In the world of traditional digital marketing, many users focus on sites like Facebook to get their advertisements in front of as many people as possible. The problem with taking this approach when promoting a crypto project is that many people don't want to see anything to do with cryptocurrency as they don't understand it or consider it a scam of sorts.
With this in mind, the crypto community has turned to other social media sites, with Reddit and SteemIt becoming two epicenters of discussion. Reddit, and its host of Subreddits devoted to talking about cryptocurrency, is one of the best crypto marketing channels simply due to the volume of people that are continually interacting with its content.
Equally, SteemIt is a social media site that actively incorporates cryptocurrency into the fabric of its website, with upvotes generating cryptocurrency for the poster. Interacting with SteemIt generates cryptocurrency, meaning the vast majority of users will be familiar with what crypto is and how it works.
Source.
By focusing on these communities, posting on SteemIt, and finding the correct Reddit Subreddits, you're able to post for free and gain attention around your media project. Over time, this will also help you radically diversify your posting, allowing you to collate blog snippets and post them to help generate even further natural traffic.
Twitter
While alternative social media sites like Reddit and SteemIt are real winners in terms of easily accessibly crypto marketing channels for you to post on, that doesn't mean that the larger social media sites are totally off limits.
In fact, Twitter still has a thriving crypto community, with this social media being one of the very best to turn to. With over 237.8 million daily users on Twitter, there is a huge audience for you to capture with your marketing materials.
Source.
Using hashtags like #Crypto or #cryptocurrency can radically amplify the scope of your account, helping to let others that have an alert for that particular search term. This ensures that not just those individuals that are following your company account see your posts. Another fantastic feature on Twitter is retweeting, meaning your post is seen by thousands of people as the post range amplifies to the retweeter's entire following.
By creating marketing posts that naturally acquire more retweets, like airdrop giveaways, then you can quickly gain momentum on Twitter and get your crypto product seen by a huge quantity of individuals. Although there aren't designated community sections, as with Reddit and SteemIt, you can use Twitter as a base of your social media strategy, providing a fantastic crypto PR channel for you to make use of.
PR Outreach
Another one of the many crypto marketing channels that are available to you right from the start of your campaign is turning to press releases and other outreach articles to post around the internet. Although cryptocurrency was only created back in 2009, in the last decade a huge amount of community support has grown, meaning that there are now almost countless publications that directly focus on cryptocurrency.
While there are many major cryptocurrency news sites, the most popular pines like CoinTelegraph aren't actually the ones you should be focusing on. While it's certainly possible to get a press release about your company put into a larger publication, this is typically hard to do unless you're working with a crypto marketing team that works in blockchain PR services.
Instead of focusing on these harder to reach crypto marketing channels, you should direct your attention to small and medium-sized news outlets that are accepting guest posts. Much like creating effective content for your own blog, these articles should shine a light on a particular aspect of the world of crypto that you think would help users.
How To Find Crypto PR Channels for News Publications
If you're looking to find a news site to post on, there are actually many steps you can take – even if you don't have any industry connections to take advantage of. The first step is always going to be turning to Google. With quotation mark searches, you're able to generate site results that only directly feature what you're searching for.
With this, it becomes easy to find a whole selection of different sites that you can reach out to. Just take a look at this example below.
As you can see, instantly a range of different sites that focus on crypto news and are accepting guest posts appear. By then clicking on one of these sites, you'll be able to see the different specifications. Just follow these and get to submitting your press releases, always remembering to include links to your website to help with crypto link building.
Final Thoughts
Identifying crypto marketing channels is an important step towards launching a successful campaign, as knowing which channels to use ensures you can effectively create content and capture a percentage of this audience. While the crypto marketing channels that we've identified in this article are fantastic to use, you still need to be sure to create effective content that people will enjoy.
If you're unfamiliar with creating crypto marketing campaigns, then we advise you to work with a blockchain marketing agency. Here at GuerrillaBuzz, we have years of experience in launching highly-successful crypto campaigns. With knowledge of elements of crypto SEO, and blockchain PR, as well as a litany of close connections within the industry, we'll be able to craft the perfect campaign for you.
No matter what you want to achieve with your crypto marketing campaign launch, we'll be there to guide you through every step of the way. Reach out to our team of experts today for an initial consultation and see exactly how we can make your crypto shine.