Book a free consultation meeting!
Are you looking out for a reliable Web3 marketing agency? This blog discusses some of the best options that you can find.
Best 15 Web3 Marketing Agencies [Top Picks For 2023]
The emergence of Web3 technologies has disrupted the traditional marketing landscape, creating a need for innovative marketing strategies that leverage blockchain, cryptocurrencies, and decentralized applications. As a result, a new breed of marketing agencies has emerged, specializing in Web3 marketing and providing clients with cutting-edge solutions that help them stand out in this competitive space.
In this article, we have compiled a list of the top Web3 marketing agencies that are at the forefront of this rapidly evolving industry. These agencies offer a range of services, including content creation, social media marketing, influencer outreach, and community building, all designed to help clients achieve their marketing goals in the decentralized world.
With a deep understanding of the unique attributes of Web3 technologies, these agencies can help you develop a tailored marketing strategy that speaks to your target audience and drives engagement and growth. Their expertise in navigating the complexities of the blockchain ecosystem and their ability to stay ahead of the curve in this rapidly evolving industry make them the go-to choice for businesses looking to succeed in the Web3 world.
1. GuerrillaBuzz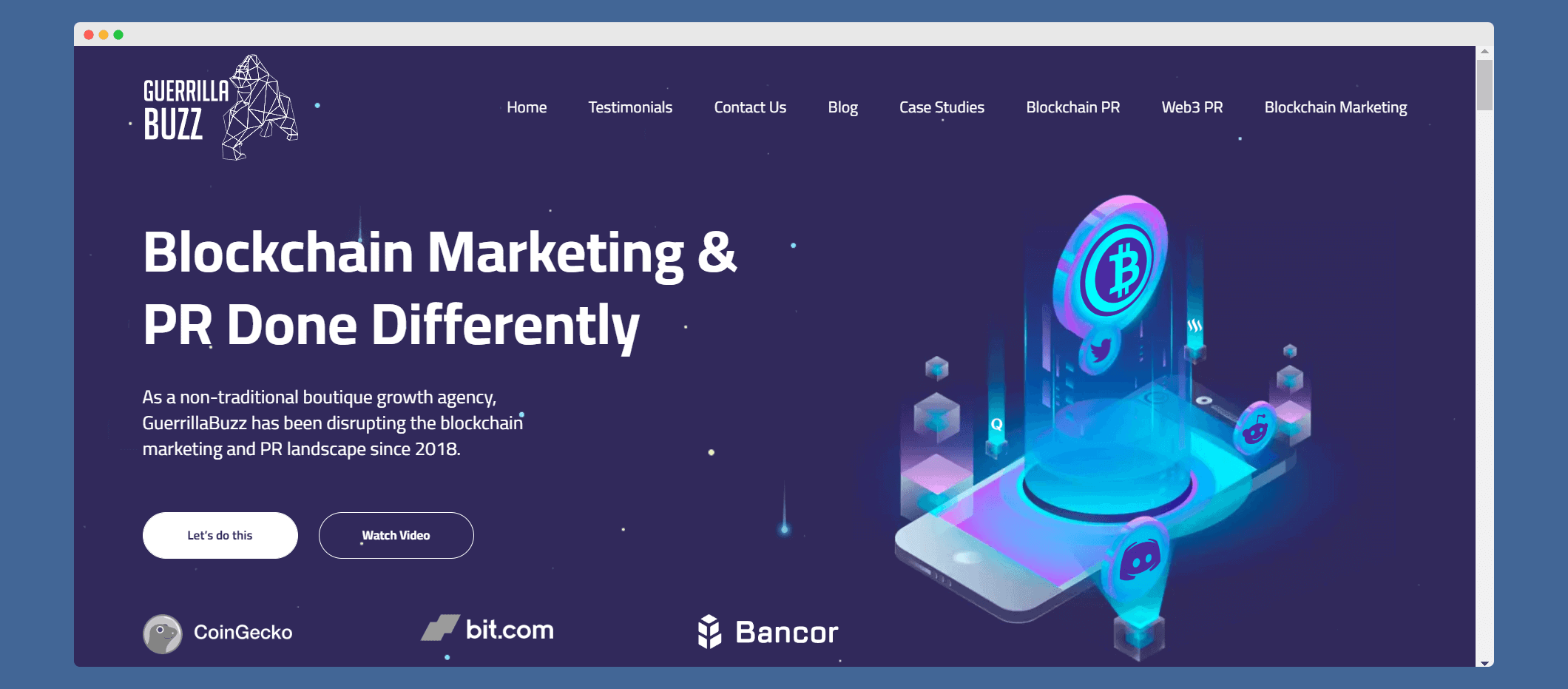 Guerrillabuzz is into the PR business since the year 2018. They provide solutions in various sectors like Blockchain marketing, promotions on social media, NFT marketing, and Web 3 PR. Web 3.0 is an upcoming concept with lots of developments going on. Thus, launching a Web 3.0 project requires a great deal of strategic planning and appropriate promotional strategies to gain the exact momentum for success.
Therefore, you will need a PR agency that does a detailed project analysis and offers you the best Web 3.0 PR strategy to create hype around your project. An example of this could be advertising your project in the metaverse. Guerrillabuzz provides unique methods of promotion like these and will drastically improve your promotions.
Also Read: A Complete Guide To Crypto Marketing
2. Blockwiz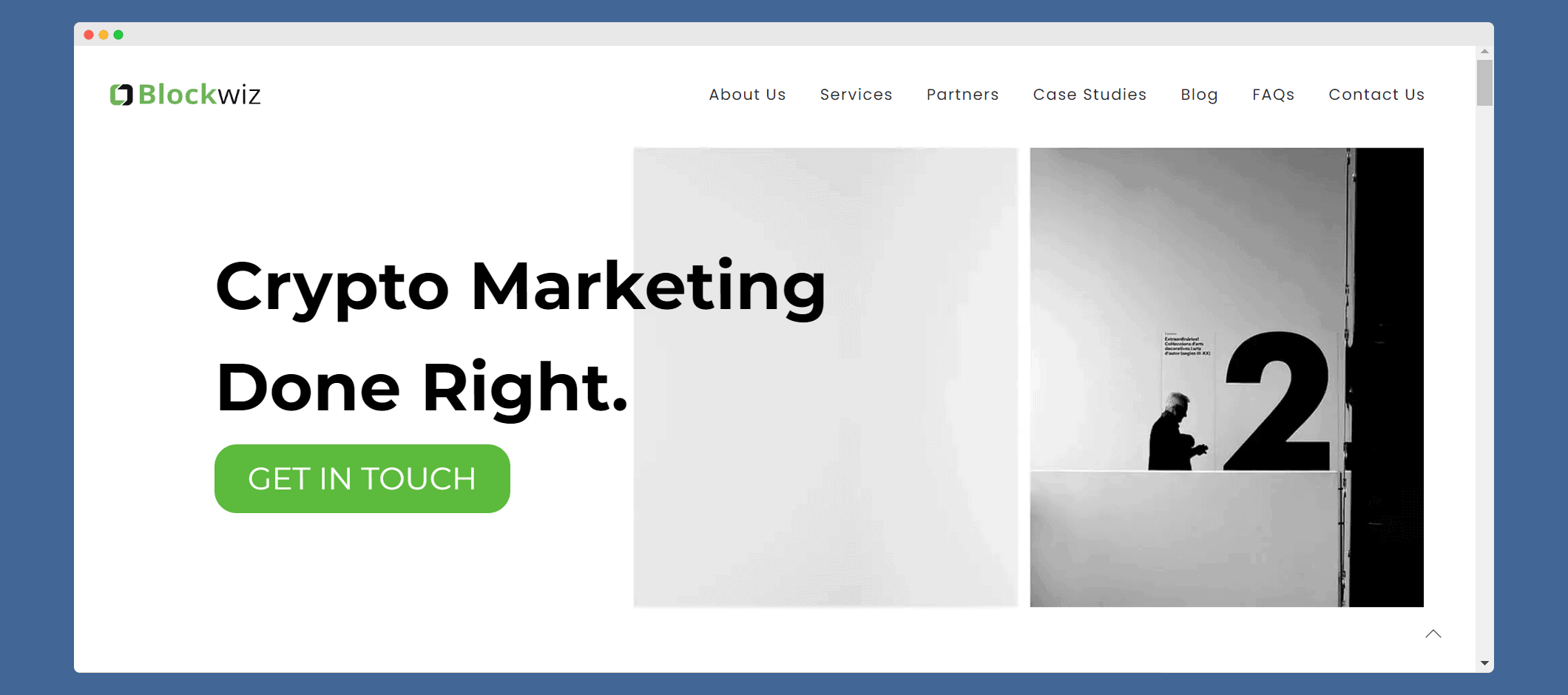 Blockwiz is a dedicated website for all the tasks related to crypto and metaverse. Thus, Web 3.0 marketing can be done easily at Blockwiz. They have pretty awesome services for promoting your Web 3.0 project. They are a team of 85 members with more than 250 elated clients and a total of 1800 successful campaigns.
The numbers speak for themselves. Blockwiz is trusted by companies like Hubble, Glimpse, Uniris, Cryptobiz, NFT Alley, Mosaico, B21, Carnival, Coinsquare, and others. Blockwiz is an international PR agency. Therefore, no matter where you belong you can always sign up for a quote from them. They have gained 90M+ views on Youtube and have a phenomenal global reach.
3. Crowdcreate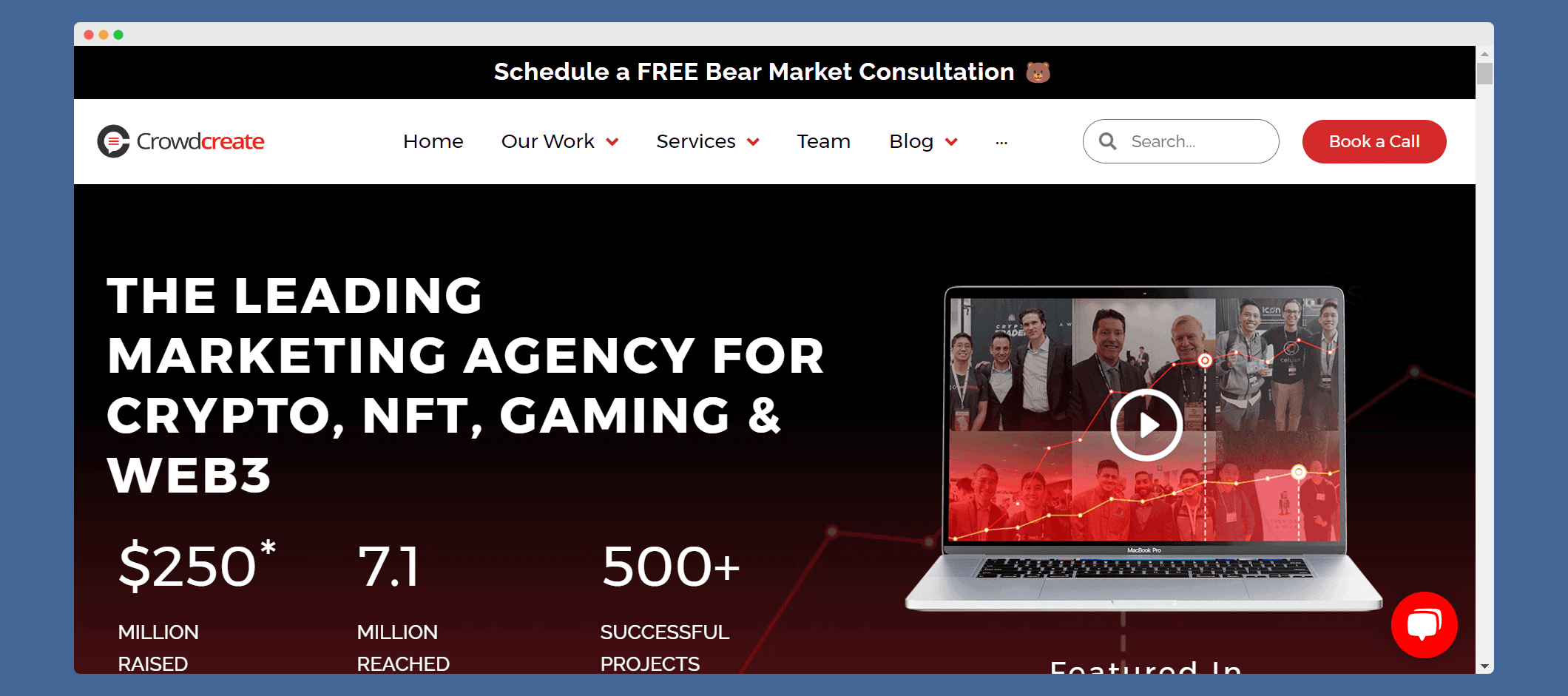 Crowdcreate is an extraordinary and exceptional PR agency for all sorts of projects revolving around the world of crypto and NFTs. Crowdcreate has successfully addressed more than 400 projects in this domain and has a global reach of 7.1 million. With net raise of 250 million USD, Crowdcreate is a serious competitor to other PR agencies.
Crowdcreate provides unbeatable services in Web 3.0 and will provide you with assured results. Once you sign up with them, they will scan your project for all the existing flaws and help you get rid of them eventually. They are known for providing their clients with a splendid audience reach and thus a successful PR campaign. Some top-grossing Web 3.0 brands trusting Crowdcreate are- Jamcity, Solana, JAXX, The Sandbox, Casper, and others.
4. Ninjapromo.io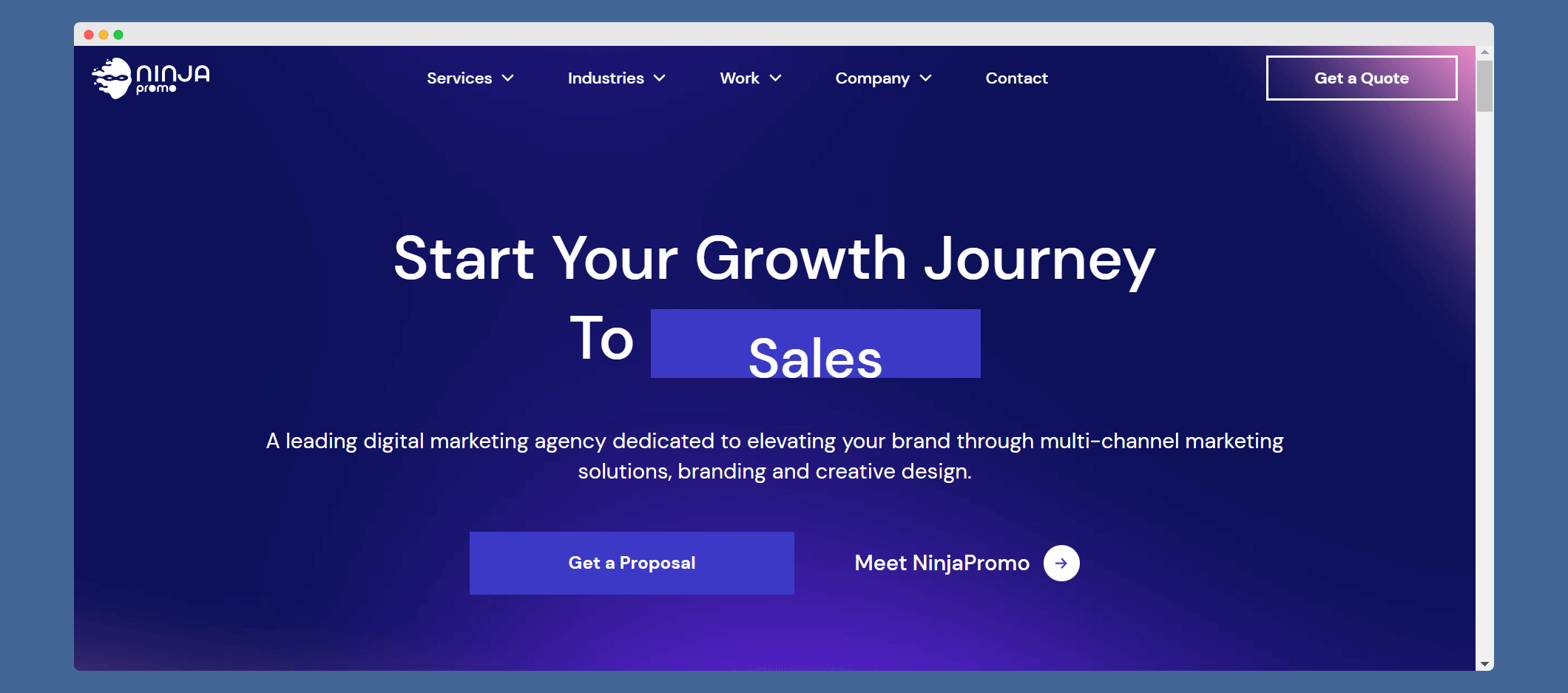 Ninjapromo is a full-stack blockchain development PR agency that will help you with plenty of services. They operate in the field of B2B marketing, crypto, and finance. They have a record of successfully serving a famous Web 3.0 company Polkadot. Other happy clients include- Trust Wallet, Decent, Bull Perks, Dopamine, Probit, Fantom, and others.
Ninjapromo provides the ideal promotional strategies and well-constructed content for gaining the right traffic exposure. They have services in SEO optimization, content management, video development, blockchain development, organic media, paid media, email marketing, influencer marketing, website development, mobile app development, and others. Ninjapromo provides unparalleled services in promotion of digital media with appropriate use of graphic media and branding strategies.
Also Read: Blockchain Event Marketing
5. Hype.partners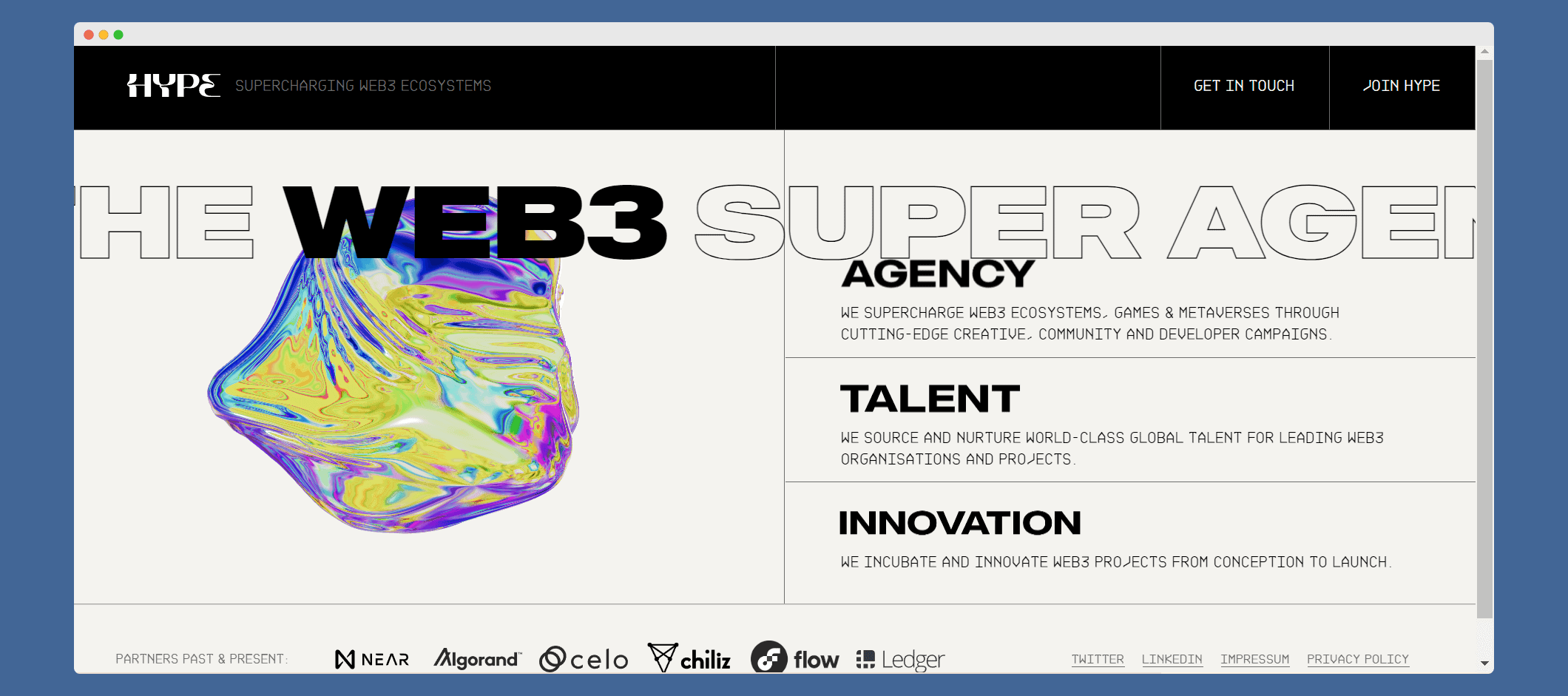 Hype is an agency solely dedicated to Web 3.0 media and projects related to the same. Hype partners provide exceptional services in all of the Web 3.0 metaverse projects and gaming ecosystems. They are unbeatable in their innovative modes of promotion and have a dynamic and bold approach to every project.
Hype serves clients from across the globe and is rooting for all the innovative and unique Web 3.0 projects that are functional out there. They are partnered with Near, Algorand, Chiliz, Celo, Ledger, and Flow. Contact their representatives for an astonishing experience in the world of Web 3.0.
6. Kryptonite.agency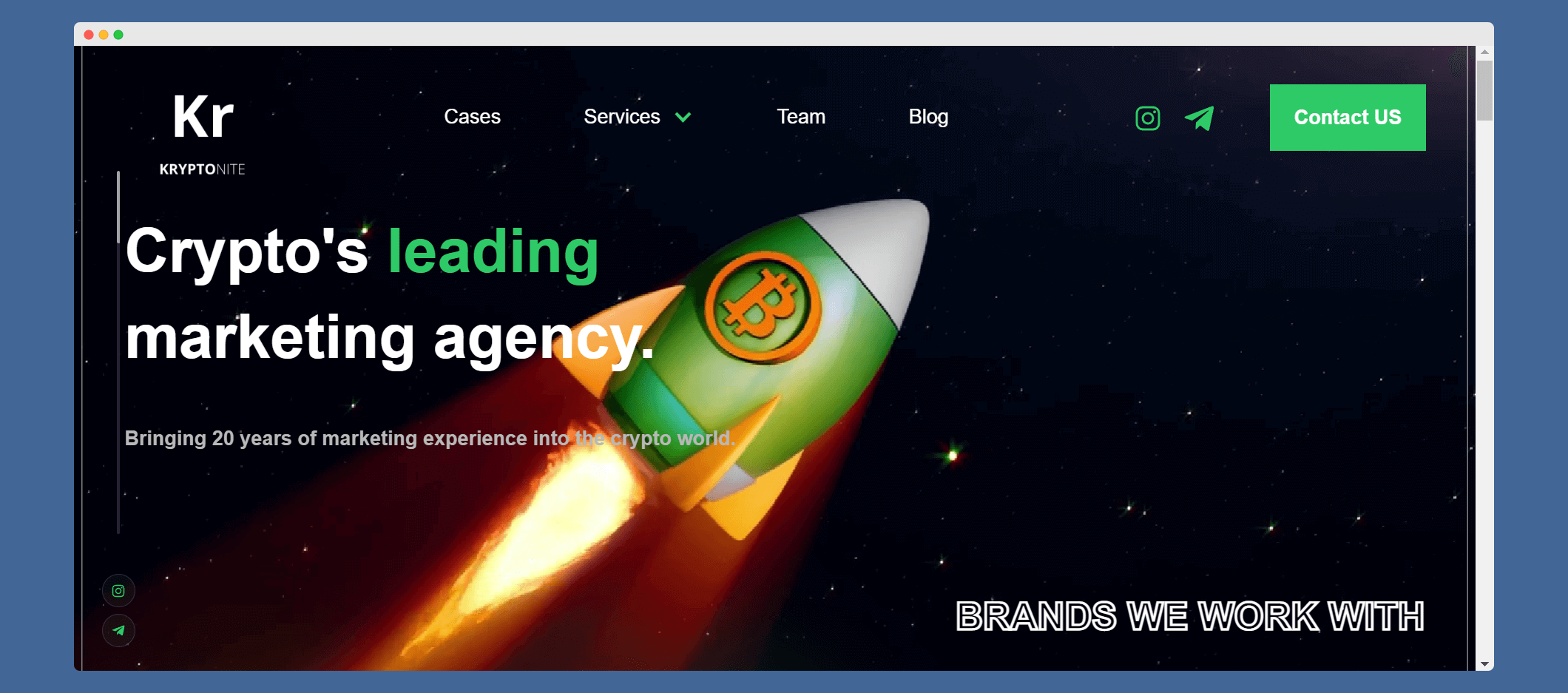 Kryptonite is one of the leading PR agencies out there in the crypto and Web 3.0 domain. They have a marketing experience of 20 years which they are now utilizing in the crypto sector. Kryptonite is proud partners with Eve exchange, Polygame, VOX Finance, Sigma, Altrucoin, and others.
With a total of 192 accomplished projects and 29 million+ promoted pre-sales, they have an average rating of 87.3%. Kryptonite has a huge exposure of more than 19 million followers thus you can understand their impact on the audience.
7. Solulab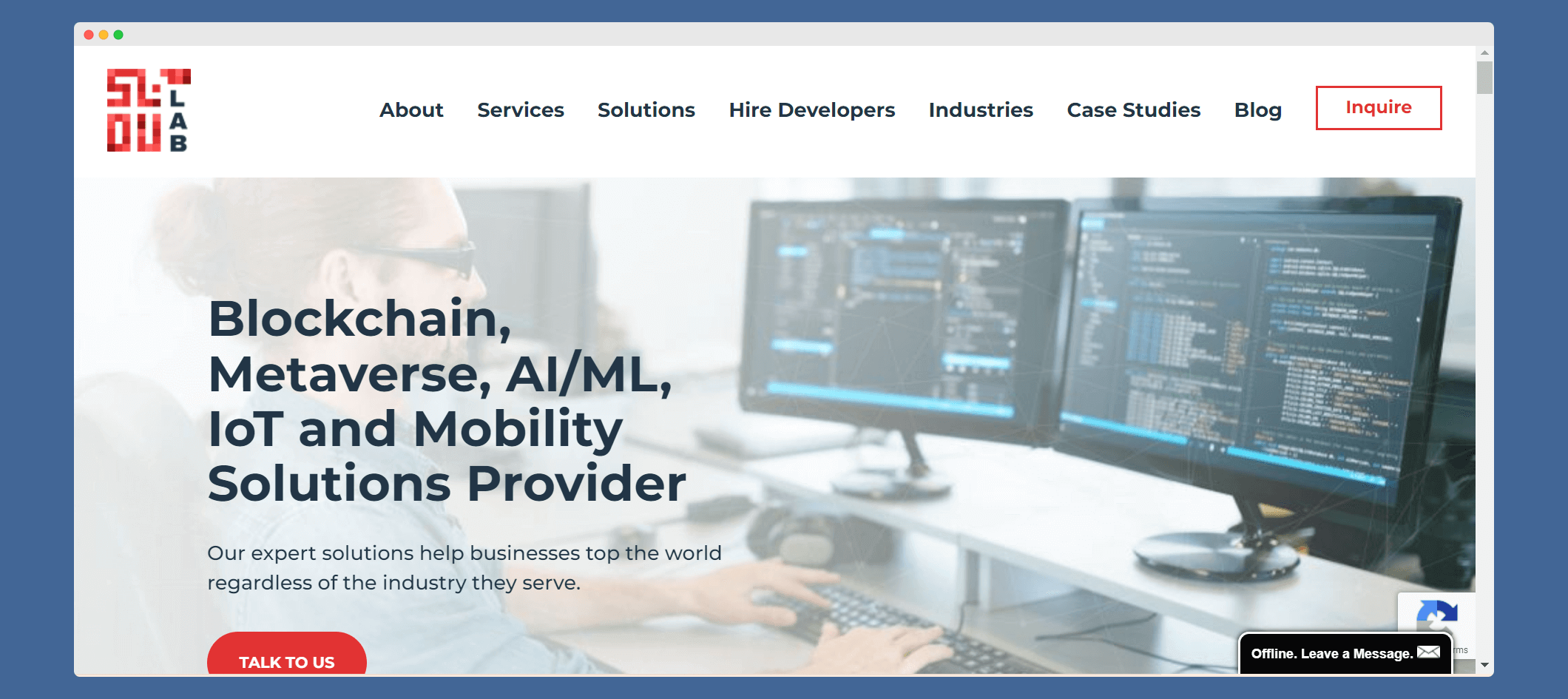 Solulab is recognized as an agency with solutions in Blockchain, Metaverse, and other Crypto-related domains. Solulab has served clients like Walt Disney, Mercedes Benz, Goldman Sachs, Georgia Tech, etc.
Solulab provides an expert solution in Blockchain development so that you can leverage your projects into successful visual outcomes. They also have developed solutions in mobile app development and metaverse development. Other services that might interest you are machine learning, data science, and the internet of things.
8. AskGalore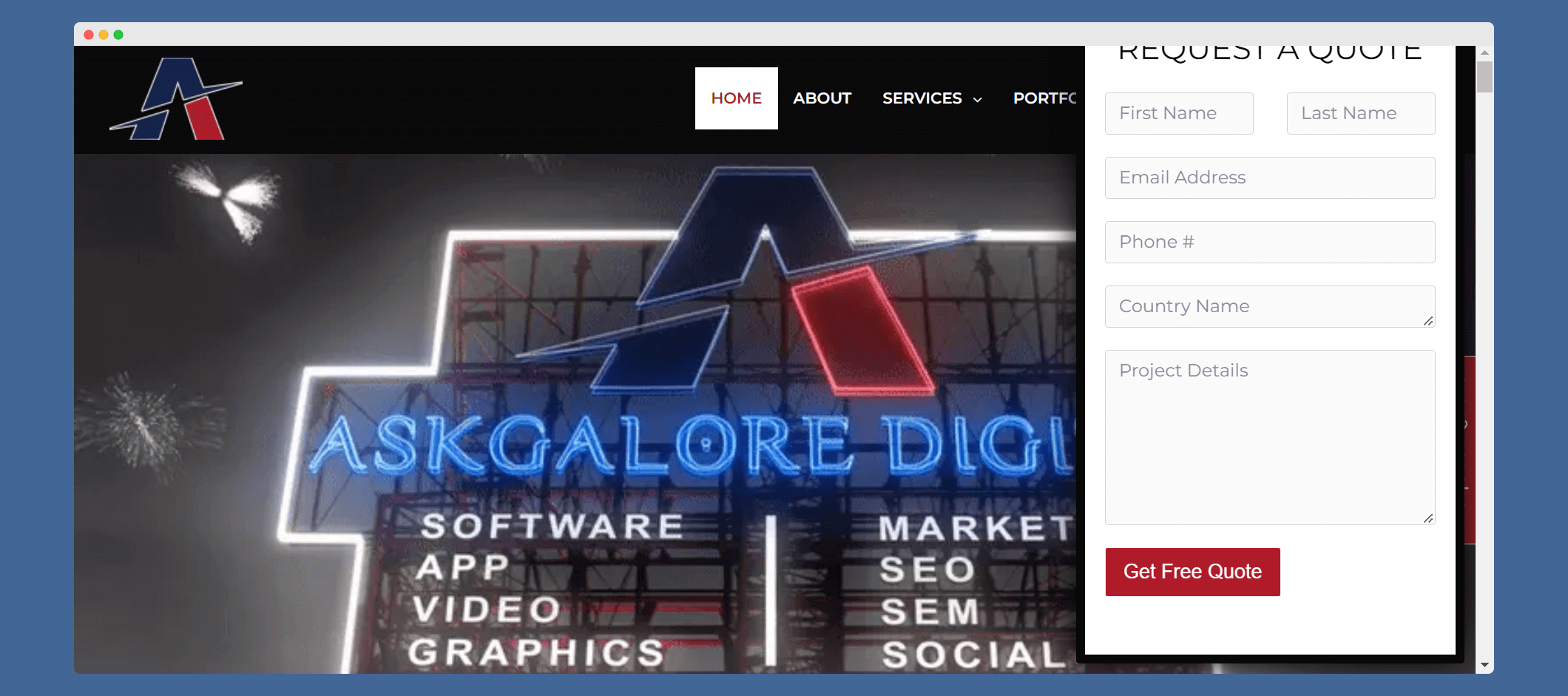 AskGalore delivers multiple services in blockchain and crypto. They have a variety of unique and intriguing services for you to choose from. Some services that are worth giving a try are mobile app development, Blockchain application, software development, NFT marketplace development, cyber security, full-stack web development, AI development, and others.
AskGalore specializes in SEO marketing, content management, graphic designing as well as digital marketing. They have their share in the healthcare industry, education sector, software development, and many other rising industries.
9. Unicsoft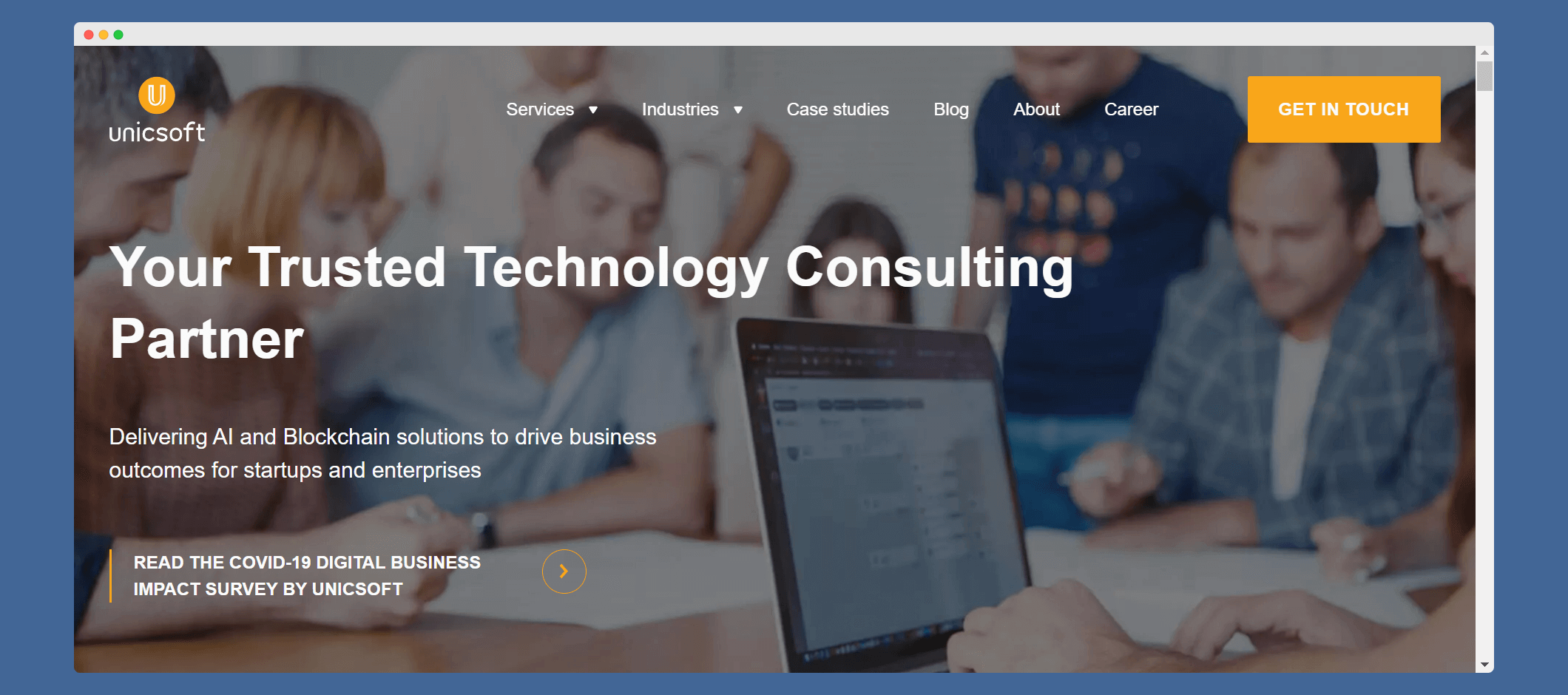 Unicsoft is perfect for every startup organization and other industries to build and expand their business via blockchain marketing. Unicsoft provides core tech services in blockchain, AI, data science, machine learning, etc.
This agency will help you gain the correct type of traction for your project. They provide excellent services in bringing new generation tech to your project.
10. Interexy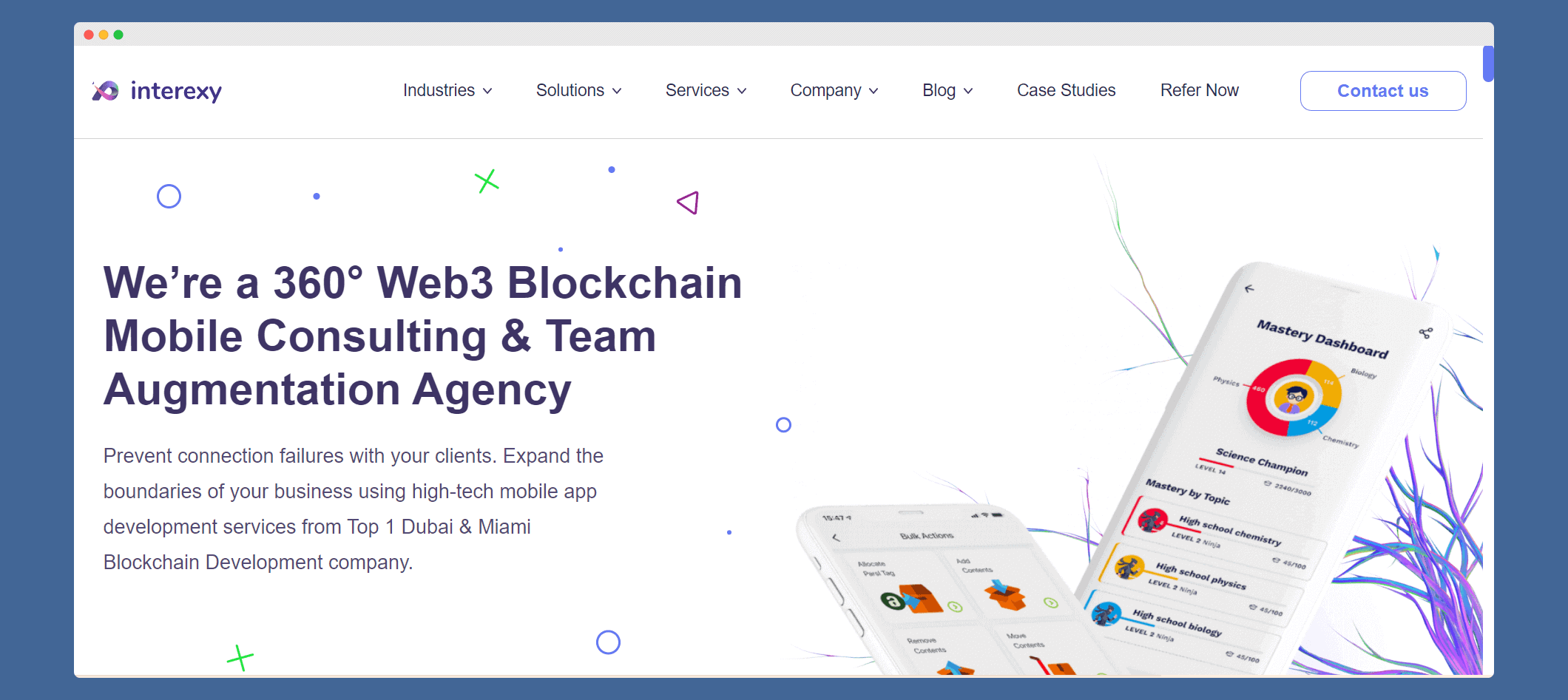 Interexy is a Web 3.0 and mobile app developments agency that specializes in web 3.0 technology. They have unparalleled solutions in web development. Clients of interexy include- Pampers, General Electric, and SAP. Interexy provides top-notch services in web 3.0 marketing and relevant back-end developments.
11. Crowdform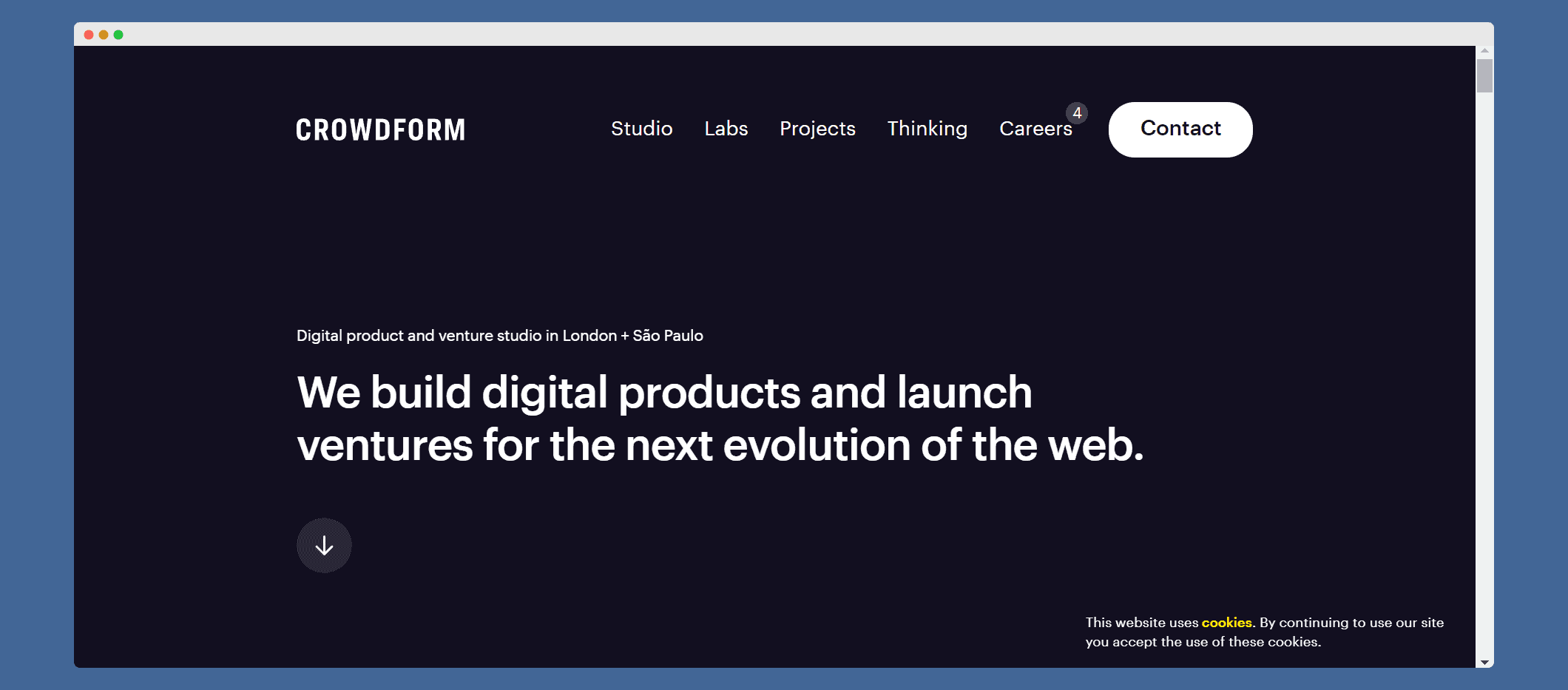 Crowdform helps you elevate your business standards by providing strong web 3.0 and blockchain development solutions. They have completed projects in multiple domains on web 3.0 like gaming development, app promotions, website development, and more. Crowdform has a dedicated web 3.0 venture studio that will help you to promote your project at a larger level.
12. Rehab Agency
Rehab Agency is an AI-powered agency for culminating queries related to web 3.0 development and blockchain functioning. They provide unsurpassed provisions in web 3.0 and NFT. They help their clients in developing exquisite business ideas and promotional strategies to rank high amongst many others. To date, they worked with clients like Amazon, Estee Lauder, Nike, Google, and others.
13. Mooning
Mooning provides divine services in metaverse and web 3.0 solutions. They make use of varied AI-powered technologies to help you raise the bar among your competitors. Mooning assists in extreme NFT development solutions to upgrade your business from your current position to a rank higher than it does.
14. Epic Playdate
Epic Playdate is a marketing agency with innovative and exuberant artists, designers as well as developers for dissolving your web 3.0 queries. They are exceptional in providing alluring and distinct visual designs and representations. Epic Playdate is an ultimate web 3.0 marketing agency that is currently working in sync with one of the leading web 3.0 networks We3.
15. Web3 Consulting
Web3 Consulting will assist you in designing your web 3.0 projects and promoting them across the media. They use automated data marketing methods to gain traffic for your project. Web3 Consulting has services in project development as well as optimization. They will aid you in crypto marketing, brand edvelopment, and promotion.
Things To Consider Before Choosing A Web3 Agency
Consider your plan
Before commencing your journey of web 3.0 projects you should check the properties and details of your project. It is because you will be investing your funds in your project and promotional activities. Therefore, before investing a heavy amount you should be aware of the potential your project holds, or else, it will be a mess.
Know the results of the agency
Every agency has its portfolio of testimonials and projects completed. Check it precisely and analyze every detail possible. This will help you to gain a better understanding of the work the agency does and if it is beneficial for you.
Conclusion
Web 3.0 marketing is the future of the internet of things and holds great potential for successful outcomes. Thus, investing in Web 3.0 projects should be one of the priority tasks on your checklist.
However, when you do so you must have a bulletproof plan for raising the appropriate funds for the same. Entering into this zone without appropriate knowledge might make things go down the hill. Thus, have a solid plan and get supported by one of these top Web 3.0 marketing agencies to get the most of it.
FAQs
1. What is Web 3.0?
Web 3.0 is the current revolution in the world of the internet. This new tech allows you to access decentralized ways of browsing. Web 3.0 allows the browser to be the owner of the content they produce. However, this doesn't mean that your content can't be shared by other people.
Web 3.0 works in sync with cryptocurrencies and blockchain development. Although it is in a developing stage at the moment, if worked properly Web 3.0 holds greater potential for users across the world.
2. What to consider before selecting a Web 3.0 marketing agency?
Before you jump on to signing a deal with any Web 3.0 marketing agency you should be well aware of the clients they have served. You must know the types of campaigns and policies they have used for promoting their client. Get data on the success rate of the client and other relevant details.
Once you do so, you must analyze your financial status before entering into a deal with any agency. This type of business requires a hefty investment because there are equal chances of things not working out. Thus, be prepared either way.
3. What is the difference between Web 3.0, 2.0, and 1.0?
Web 1.0 was the most rudimentary use of the internet. It merely involved people browsing sites like Wikipedia to gain certain information. No exchange of data was involved. Web 2.0 allowed users to interact with each other and share their information over digital platforms. This way the gates for digital media marketing began to open and we are still living with them.
Web 3.0 on the contrary is a decentralized mode of using the internet where no individual organization would hold control over your site. You get to control your website and work with it accordingly.
4. Why Web 3.0 is the future?
Web 3.0 has the biggest flex of decentralization in it. Plus, there won't be any censorship. The type of data that you browse and the type of recommendations that you would receive would be completely personalized.
Thereby increasing the overall functionality and reliability over the internet. Thus, web 3.0 is considered to be the future.
5. Is Web 3.0 beneficial?
Considering the current developments in technology, Web 3.0 would be essentially beneficial to everyone. The personalized browsing experience would make the browsing journey more precise and short span. Plus, the freedom of selling and buying digital assets would be more fun on Web 3.0.