Book a free consultation meeting!
Crypto link building is one of the best ways to bring authenticity to your crypto website. Not only will backlinks get your IDO project out there and boost public perception, but more backlinks will also boost the amount of natural traffic to your page.
Crypto Link Building: The Complete Guide
This guide will walk you through the fundamentals of crypto link building. You'll be boosting your Google search rankings and getting increased traffic in no time.
This crypto link building guide will teach you:
What link building is
What crypto link building is
Why link building is important for your crypto business
How to build links
What makes a good link
What is Link Building?
When people refer to 'Link Building', they're talking about the process of getting other sites to link to yours. These are commonly referred to as 'Backlinks'. If your page has more backlinks, its credibility in the eyes of the Google search engine increase. This will, in turn, push you up the Google front pages.
You'll be able to link build, or increase the number of people linking to your page, through a couple of methods. But before we get into that, a hard and fast rule is to always create detailed, informative, and sharable content. If your blog has excellent resources, people will be more likely to want to share it on their own websites.
A tool like SiteChecker will allow you to see some statistics on the amount of backlinks any website has!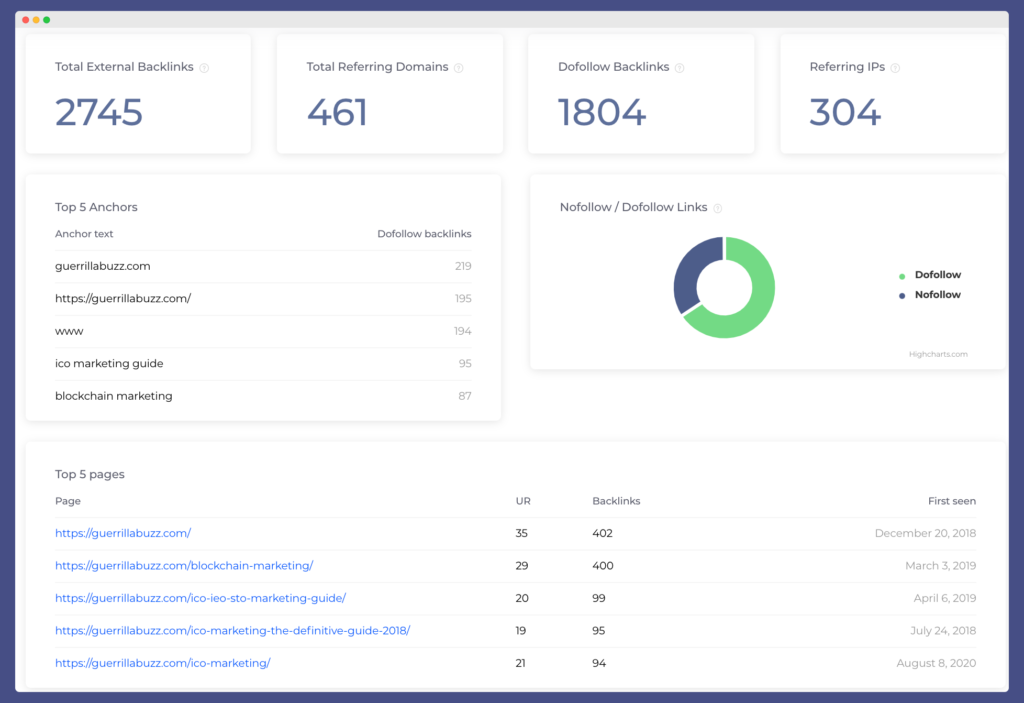 What is Crypto Link Building?
Crypto Link Building is the practice of building links that point towards your crypto website. It's one of the main parts of crypto SEO. The main difference between this and traditional link building is that you'll be looking to target sites directly related to finance, cryptocurrency, and blockchain.
By targeting these websites, through forums, podcasts, and networking in the crypto space, you'll be able to build links that are relevant to your niche. Your main goal will be getting links from reputable sources in the crypto community.
Take a look at this list of the most popular cryptocurrency websites to get a better insight!
Why is Crypto Link Building Important for Your Blockchain Business?
Crypto link building is not only important, but it's essential to your cryptocurrency business. It's a huge part of blockchain marketing. From boosting the authenticity of your site to increasing your ranking on Google, link building is one of the most vital parts of running a crypto blog. Let's take a look at the top three reasons why crypto link building is so important.
Reliability, Authority, and Authenticity
Although a cryptocurrency like Bitcoin started back in 2008, it took a long time before it became a household name. Since those early years, more than 4,500 cryptocurrencies have now sprung up. While many of those still haven't gotten very far, if you're running an IDO project, you want to set yourself out from the rest. How? Gain more backlinks!
One of the best ways to do that is to actively engage in the crypto community and build yourself into a household name. If the name of your IDO project is all over the crypto forums and webpages, with links back to your site, people will become more familiar with your project.
Familiarity breeds trust. If people keep seeing your name around the internet, they'll be more likely to be ready to take the leap and invest. Being everywhere ensures that you're a reliable and authentic IDO project.
These three traits are some of the reasons that IDO projects fail. Don't fall into the trap, get your name out there and build some links!
Traffic From Other Sources
Alongside establishing yourself as a reliable blockchain company, having links to your website on other sites will promote more traffic to your page. Think about all the times you've seen a blue link in an article and clicked on it. If you wanted to know more about IDO Marketing and PR, there is an easily accessible link that you can use to do so. Check out this link in one of our previous articles.
If you're on other people's websites, there is a higher chance that their readers will find your website. Let's think about this practically.
If someone is searching on Google, unless you're the top result there is a high chance they won't click on your website. In fact, 53% of people only click on the first result. If you're not in that position, it doesn't look too great for you.
However, we can completely bypass this rule if you're featured on someone else's website. That's because you no longer have to rank highly on Google, as they'll be moving straight from their website to yours. If your link is on a high traffic page, that's potentially thousands of more views a month from click-throughs.
Increase your rankings on Google
As I've just started, if you're not topping that first page of Google, it's unlikely that people will click on your website. That can be especially frustrating when you know that your content is better or more informative than what's currently top-ranked.
One of the benefits of link building is that Google records the number of credible sites that link directly to your website. The more of these you have, the more Google considers your page to be trustworthy. Due to this, Google will push you up the search rankings.
By building links, not only will you be improving your Google rankings, but you'll be gaining more traffic straight to your page.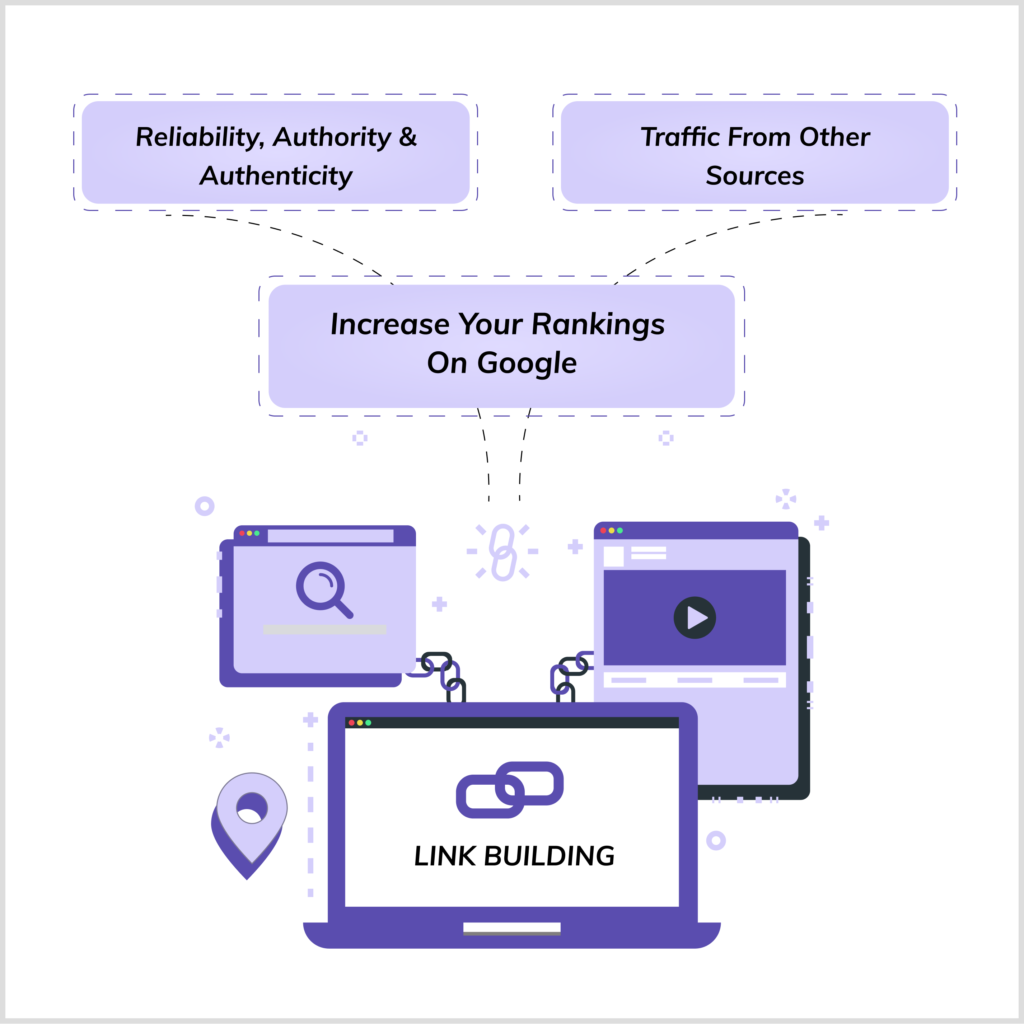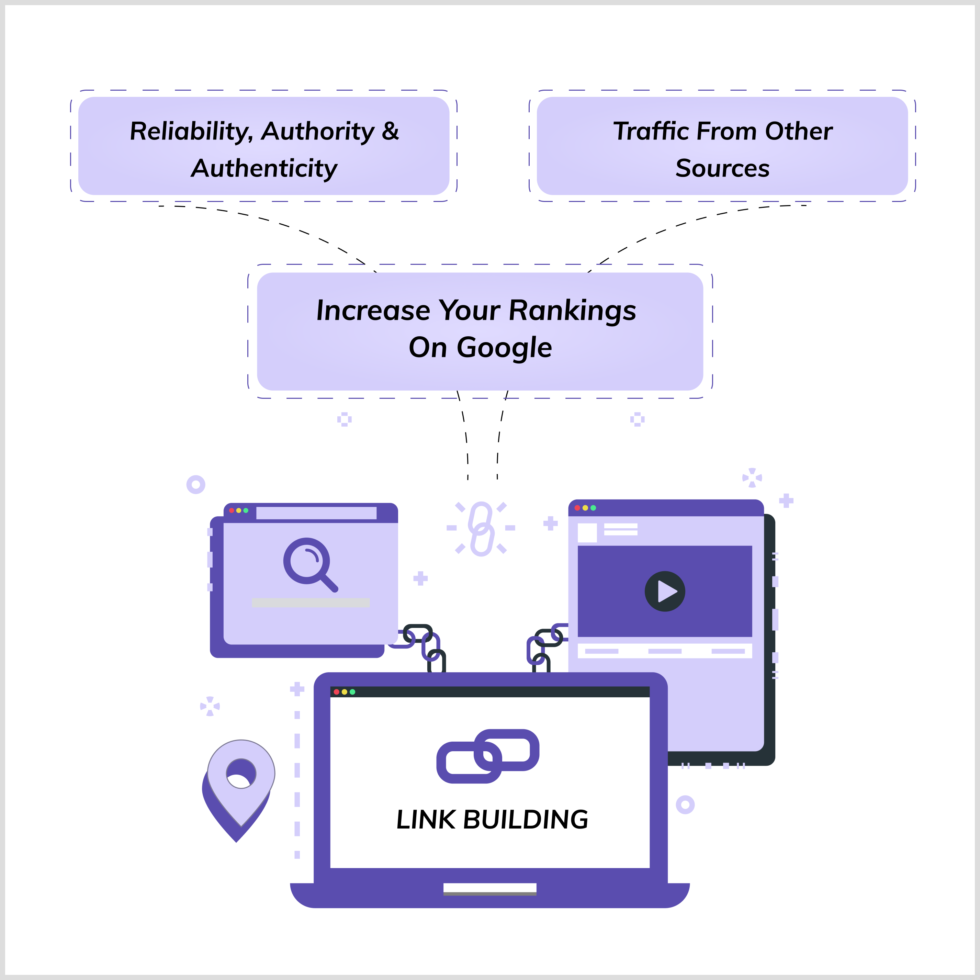 How to Build Links
Now we know why crypto link building is so vital for your blockchain business. But how exactly do we go about getting people to link to our website? Let's work from things you can do on your site outward. We'll start with your own blog pages, then move out on to explaining external tactics.
On-Page:
Amazing Content
Infographics and Research
Off-Page:
Audit your content
Q&A Sites
Outreach
Content Sites
Guest Blogging
If you want to know more about crypto off-page SEO, we're written up a complete guide for you!
Provide excellent content
The most simple thing we can do when wanting to link build is to provide fantastic content. If you have a poorly written blog that just plagiarizes someone else, no one will link to your content. Most likely, they'll only find the website you copied off and link to that instead.
With over 5,760,000 blog posts being posted to the internet every single day in 2021, you need content that stands out from the crowd.
Similarly, if your blog is just a lot of fluff without actual information, no one will want to read it. That's because long-form blog posts generate on average 9x more leads than short-form posts. That means people want content that shines, and sustains that shine throughout the whole blog!
If you want people to actually link to your content, you need to abide by these rules:
Write long-form articles of over 1,000 words
Include statistics and links to other sites
Try and include photos that are relevant to your post, graphs are great!
If you want even more information on how to write a fantastic blog, check out our master guide to On-Page SEO. That blog will give you everything you need to know when writing a crypto Blog SEO.
Research/Infographics
One of the most overlooked parts of producing great crypto blog content is incorporating your own research into your blog posts. In the age of speed media, people get overwhelmed with walls of text.
That's why one of the best ways is to break things up with infographics. If you're researching how effective a particular marketing strategy is, why not take your findings and convert them into a graph?
Not only does this break up your article, making it more aesthetic on the page, but it also provides a perfect piece of content that will garner backlinks. If someone sees your infographic on your webpage, they may find it interesting enough to feature in their post. This can provide a strong backlink, and drive traffic to your blog page.
Take a look at these websites that are at the top of the Banana Bread Recipe list. By clicking on them, you'll be directed to their website, getting them natural traffic!

If someone sees your infographic on Google images, they may click on the image and be directed right to your site.
How to crypto link build Off-page
Now that you've got fantastic content that is embedded with useful infographics, it's time to take a step back. We're going to move away from the content side of link building, and start looking at off-page methods of link building for your crypto website.
Adjusting your website
Once you've produced some useful content, your views should start trickling in overtime. After a few months, you should have a clear vision of which of your web pages is the most successful. Depending on what success looks like for you, this could be most clicks each day, most comments, or most shares.
With this information, you can prioritize the pages that are doing better. Once you know which of your pages is technically doing best, you can adjust your website to make sure your content follows that page. This is a great idea if you're not too sure which style of content would work on your website. Using Moz Domain Analysis, our top pages currently look like this:
Now that you've figured out which content an audience connects to most, you'll be ready to move to the next stages
Q&A Sites
Q&A Sites are fantastic places to get thousands of views on your links. A popular way of doing this is by setting up an account and answering questions in your niche. When someone asks a question, type out a lengthy response, almost like a blog post in itself. Within the response, you can link to your page while pointing to additional information.
What this does is allow someone to see that you're an expert in the field, while also pointing them directly to your website.
Considering that Quora currently gets around 300 million unique visitors every month, that's a huge client base potential. If your response is detailed, people will upvote your answer, pushing it higher on the list. The higher it goes, the more people will see and click on your embedded links!
Outreach to connect
Blog outreach is one of the most talked-about methods of link building. This is where you search for blogs that discuss something you've written a blog on. After you've found one that's a good fit, you can send them an email stating why they may want to feature your blog on their site.
Avoid spam emails, you don't want a recycled formula when constructing a cold outreach email. If someone sees a generic formula like:
I doubt people will be rushing to click on your email. You'll end up straight in the trash.
However, if you actually offer valuable content, they're much more likely to respond. Let's think back to infographics and personal research. If you've come across an interesting finding and think it would genuinely help someone's blog, that's when to get in contact.
An infographic is even better! Like I said before, people love looking at pictures and graphs, rather than walls of texts.
Try an email like this:
Something like this is much more likely to get a response. Why? Because you're actually offering them something in return, and adding value to their blog post while you're doing so.
Once again, well structured and effective content is king!
Social Bookmark Sites
Social bookmarking is submitting content to sites that are divided into interests. For example, if you were on Reddit, there are whole subreddits devoted to specific parts of cryptocurrency.
If you have some content that you think would interest these people, you can submit it to their subreddits. Once again, just like emails, avoid spam – only submit worthwhile content that you think people would actually enjoy.
Some other sites like Reddit that you can do social bookmarking with are Steemit, Pocket, Tumblr, and Mix.
Guest Blogging your way to crypto link building
Last but not least, we come onto the part of crypto link building that is furthest away from your own blog. Guest Blogging is where you write an article for another site on a topic you're an expert in. For Crypto link building, you'll most likely be writing within the cryptocurrency niche.
There are two ways that guest blogging can work for crypto link building. First of all, if you incorporate links within your article that point back to your own website, you can gain backlinks that way.
Alternatively, if you have a user bio at the end of your post, this is where you can feature your own website.
It's as simple as that!
But How Do I Find Sites to Guest Blog on?
There are three main ways of finding sites to write guest posts for. These are outreach, using Google search tools, and using free publication sites.
Outreach
Outreach is about reaching out to websites and offering to write for them. The first step to success when working on outreach is finding a niche, so you're already ahead of the game by writing in the crypto genre of articles.
By knowing your niche, you can easily reach out to other websites that write about crypto. Most of the time, you'll have to get in contact through email. However, occasionally there is a 'Jobs' or 'Write for Us' section at the bottom of a webpage.
Above is the bottom of the page for CoinDesk, which you can see has a 'Jobs' section.
Search Tools
Google is an incredibly powerful tool when looking for sites to guest post with. When searching on Google, if you use the double quotation marks, "Like This", your search result will only show things that have that term in them.
When we put in the terms "Write for us" + "Cryptocurrency", you can see that instantly we get a range of blogs that are accepting new writers. Simply click through these websites and apply with the following information:
Why you'd be a good fit, relevant experience
The content and structure of your proposed article
As you can see, you'll instantly get results. Simply apply to any that take your fancy!
Free publication sites for crypto link building
If you don't want to publish on other people's websites, you could post on an open form page. These pages allow you to create an account and start posting, almost like an external blog page. People have found the most success with sites like Medium and Steemit.
Especially in regard to Medium, with over 155.7 million total views, it's well worth expanding your reach onto their blogs. You can even join the Medium Creator Fund, which will pay you based on the amount of time a user spends on your blog.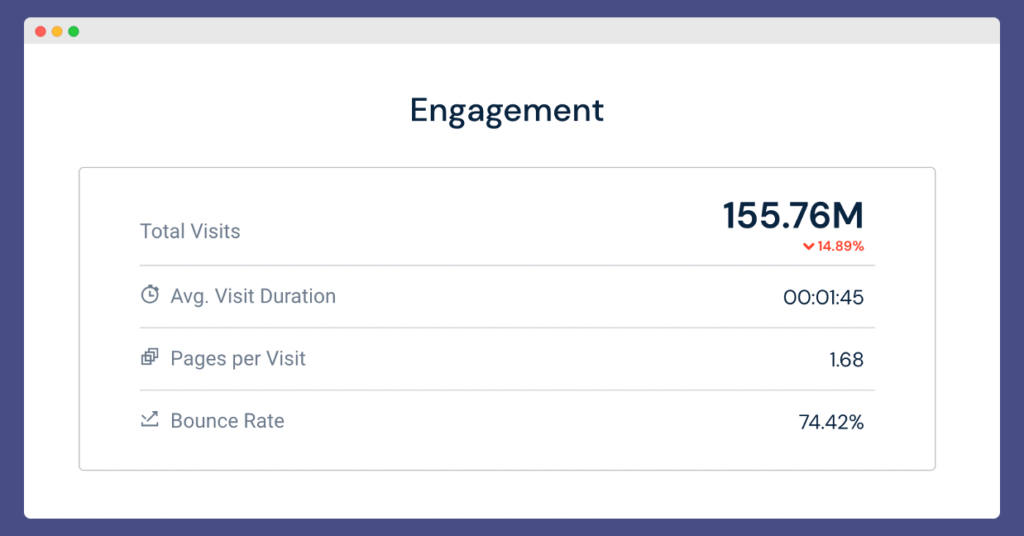 If you write a viral article, not only will you be getting paid, but you'll also be getting much more exposure for your blog, as well as building backlinks.
What Makes a Good Link When Crypto Link Building?
Not all links are created equal. That's right, even though one link from a webpage does still count as a link, some are worth more to your website than others. There are three things you need to look for when crypto link building.
Domain Authority (DA)
The context of a backlink is incredibly important. Every website gets a DA score that ranks websites from 1-100 based on how likely they are of ranking highly on Google. Using the Moz tool, we can see a website's relative domain authority.
Websites with a higher DA are usually considered more valuable backlinks than those with a lower DA.
But, there's slightly more to it than that. A website with a lower DA will actually be more useful to your site if it is in the same niche. Google works this out by seeing what keywords your site ranks for. If there is a cross over, then the site is a better backlink for your website.
Keep it simple – look for high DA scores, but go for similar niche websites above everything.
Avoid Spam
Although it might be tempting to spam links to your website in the comment section of every blog you find, this can actually severely hurt your chances of ranking on Google. Google will quickly figure out your strategy and will tank your page in response.
Focus on the methods that I suggested above instead of looking for easy ways to get backlinks.
Never be one of these people:
Anchor Text
Finally, the anchor text of a link is incredibly important. The anchor text is simply the words that are highlighted by a link. If you've written an article about SEO Link Building, you want to be linked to it through that keyword. Or, a similar keyword, like Link Building for SEO / How to build links for SEO.
In this example, the anchor text aligns with the product name exactly. The link is anchored as 'Easy Table of Contents' and goes straight to a webpage with the same slug.
Altering the anchor text so it revolves around similar keywords is a fantastic option for improving the quality of a link. You don't want links off random words, they need to be anchored in your niche. Even better if they're directly referring to the title or keyword you used for the article they're linking to.
One way to check out similar keywords is to use Google Keyword Planner. Simply enter the central keyword that you used, and it'll generate a list of similar keywords you could also use as anchor texts.
Conclusion
Link building can be a time consuming and expensive task! Our number one tip for crypto link building is to have fantastic content. If you've got great content, then over time people will naturally begin to flock to your content. More views = more links down the line!
Be sure that sure your blog is as useful and informative as it can be before you try the other methods of generating links.
If you need help with crypto link building, get in contact with us. We've got years of experience with digital marketing under our belts and would love to help you out!