Book a free consultation meeting!
Crypto blog SEO is one of the most important tools a crypto company has at its disposal. Yes, you read that right.
Do you want to gain original traffic to your website, build a community of followers, and increase your brand awareness? If so, this guide is essential reading.
Crypto Blog SEO: The Complete Guide
Crypto Blog SEO is vital if you want to transform your business. We'll be discussing the benefits of a crypto blog. This guide gives you all the SEO tips and tricks to ensure you start ranking on Google.
In this guide, you'll learn:
What blog SEO is
What crypto blog SEO is
Why crypto blog SEO is vital for your business
The fundamentals for writing a fantastic crypto blog post
Everything you need to know about On-page SEO
Let's get started.
What is blog SEO?
SEO stands for Search Engine Optimisation. This means how searchable your blog is by a Google console. An article with better SEO will appear higher in the Google search rankings.
If you're looking to increase the searchability of your article, typical SEO tasks include researching keywords, link building, structuring content effectively, and on-page SEO.
What is crypto blog SEO?
With over 4,500 available cryptocurrencies as of February 2021, there is a lot of competition out there. Crypto blog SEO is about optimising your cryptocurrency blog to ensure more people see your pages. This will bring further exposure to your blog and in turn, will allow more people to gain an insight into your IDO project.
We've written a definitive guide to IDO marketing and PR already. One of our top tips in that guide was to utilise a cryptocurrency blog. Crypto blog SEO is the primary way you can do this successfully.
By writing high-quality blog posts and using SEO, you'll be able to get your IDO out there.
Why is crypto blog SEO important for your business?
Now you know that crypto blog SEO is all about increasing the searchability of your cryptocurrency blog, let's discuss some benefits.
More exposure
If you create continual high-quality blog content around your cryptocurrency niche, crypto blog SEO will ensure more people see that content. If a larger quantity of people come to your site, your IDO campaign will gain further exposure and traction.
In fact, our analysis shows that IDO platforms with higher monthly global organic search traffic end up raising more money per project. As search traffic goes up, the amount raised by projects also goes up.
Crypto blog SEO ensures a higher placement in the Google search rankings
A well-optimised SEO blog will bring in more exposure to your blog. As your website adds more blogs that are optimised, the general optimisation of the actual website will also increase. There is a symbiotic relationship between high-performing crypto SEO blogs and the ranking of your website in the Google search pages.
One of the best ways to increase your placement in the Google search rankings is by using a well-optimised SEO blog.
Considering that the first result on Google receives an average of 31.7% of clicks, you should be doing everything you can to improve your rankings.
SEO Crypto blogs will garner traffic that many crypto companies do not have
The large majority of crypto companies do not have blogs. The main problem with this is that their IDOs are harder to find.
Apart from using IDO marketing and PR, they won't be gaining any original traffic. Considering that on average 39% of traffic for a cryptocurrency comes from direct engagement, this is a segment of interaction you cannot miss out on.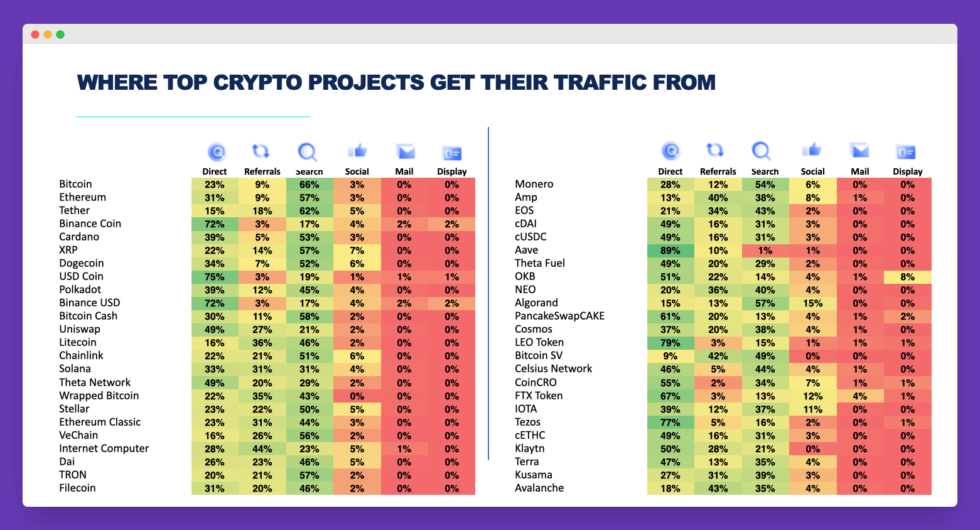 You can amplify the number of customers you reach by creating a blog that produces original, reliable, and knowledgeable content. Over time, your blog will gain traction due to the crypto blog SEO that you are using.
These additional viewers of your page will see your blockchain company and convert into investors. It's a simple method of gaining additional viewers!
Once you begin a crypto blog with SEO in mind, you will gain more exposure and move higher in the Google search rankings. On top of this, you'll also be gaining brand awareness and authority.
Additional exposure means that more people will see your IDO platform. Over time, continually seeing well-written crypto blog SEO articles coming from your domain will demonstrate to customers that you have an authentic cryptocurrency company.
If your articles paint your company as an authority in the market, soon people will begin to associate you with that level of authenticity.
While helping customers, you'll also be exposing the world to your brand, increasing authority and helping with your own brand awareness.
Crypto blog SEO fundamentals – how to write a blog
Although a crypto blog can be an invaluable tool, you need to bear in mind that you can't just write about whatever you want. Each blog post you write needs to have direct relevance to the cryptocurrency space. If that intimidates you, don't worry!
We'll break the writing process down into 5 easy steps. You'll be producing fantastic crypto blogs with SEO in no time.
Choose a topic that fits into the crypto niche
Select an appropriate style for that blog post
Scope out your competition
Keyword research
Write
Choosing a topic that fits into the crypto niche
Creating a blog for your IDO platform should include posts around the cryptocurrency niche. After all, no one comes to an IDO platform to read a food and fitness blog! Try to think of topics that you could research and write about. You don't have to be an expert, but get ready to do research until you feel like one.
If you can't think of any topic ideas, I've got you covered. One of the best tools you can use to generate titles around a topic is Google Trends. By entering a key term, Google Trends will generate a 'Related Queries' section. These will be common questions asked by those searching for your main word.
Let's take the word 'Cryptocurrency' as an example.
As you can see, you'll be presented with the popularity of a term over time. This can give you a better insight into the relative interest the general public will have with your article.
Next, let's take a look at the related queries section.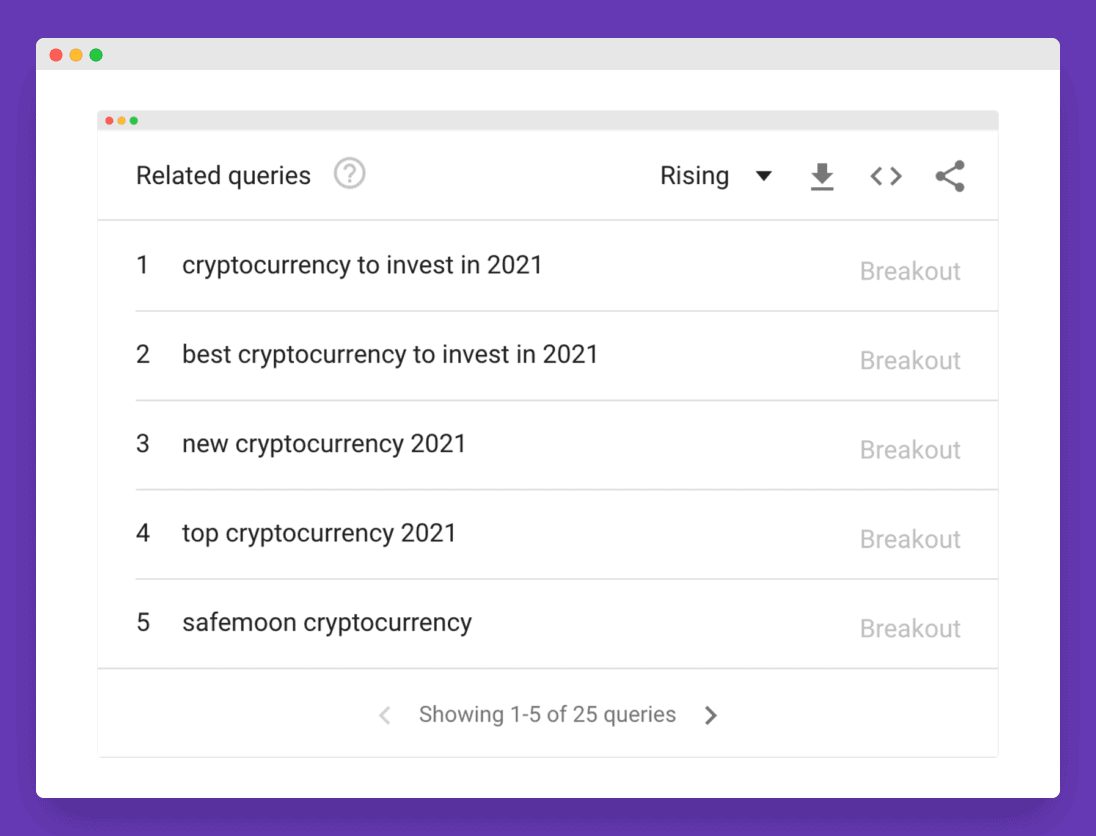 People that have been searching for 'Cryptocurrency' have also been searching these terms. From this, we could begin to think of article topics. Based on these queries, possible titles for our crypto blog could be:
"5 best cryptocurrencies to invest in 2021"
"What is SafeMoon cryptocurrency?"
"What are the newest cryptocurrencies to look out for in 2021?"
It's important to note that a cryptocurrency company has to produce articles that cover two main bases. The first of these is aimed towards the crypto community, focusing on producing articles that attract investors.
Secondly, a good crypto blog will also target the industry itself. Perhaps a decentralised version of GitHub has come out or any other useful tool. It would be a great idea would be to explore these new additions.
Selecting an appropriate style for your blog post
Now that you have a topic to write about, it's time to think about how you want to present your cryptocurrency blog post. The majority of blog posts follow one of the following structures:
A tutorial in which you outline how to do something
A review blog in which you discuss your experience trying a new cryptocurrency/service
Listicle
Opinion piece
The 'Why' post (Why to use X product when buying cryptocurrencies)
Now, you won't just be picking from the above list at random. Most niches have a blog structure that is most appropriate.
For example, when we search for 'Real Estate Marketing', you can see that most people use the listicle format. 3 out of 4 of the top blogs in this niche use listicles, while one uses a 'How-to' in the form of a beginners' guide.
However, crypto blogs are far from common. Something more mainstream like real estate has an established format.
You can be more original with your crypto blog. If we look at some recent posts by CoinTelegraph, we can see that they use a range of formats.
From opinion pieces and reviews to explanations, they use a variety. Your blog should do the same.
If you're ever stuck, put yourself in the position of the reader. Would you like this information in a quick list? What about a longer in-depth post? Maybe you need a concept explained to you?
Whatever you feel best will work well. Trust yourself!
Scope out your competition
According to HostingTribunal, 70 million new posts appear on WordPress every single month. With all that competition, it is likely that the title you want to write has been done before.
Don't worry, that's not necessarily a problem. Take a cooking blog for example. There are 100s, if not 1000s of recipes out there that all describe a 'Chocolate Cake Recipe'.
Just because something has been done before, doesn't mean you can't do it better. Due to this, you need to scope out your competition.
Type your title into Google and head to some articles that have written on the same topic. Make a note of any subheadings that you think would be good to write about. Additionally, think about any subheadings you think they're missing.
Your article will include their best subheadings, combined with your own unique writing. You don't want to copy someone else, but rather work out where they're going wrong and aim to improve upon their article.
Remember, content is king. People flock to helpful, insightful, and most of all, original content.
Keyword research
Keyword research is one of the most essential parts of writing any crypto blog with SEO. A keyword is a central term that Google will find in your article and then place you onto the search list for that term.
Keywords are the very reason that a relevant article comes up when we Google something. If you want to rank highly on Google, you're going to need to look for some strong keywords.
A great tool to do this is by using Google Keyword Planner. It's totally free to make an account and works like a charm.
Simply enter a term into the keyword planner and click 'Get results'.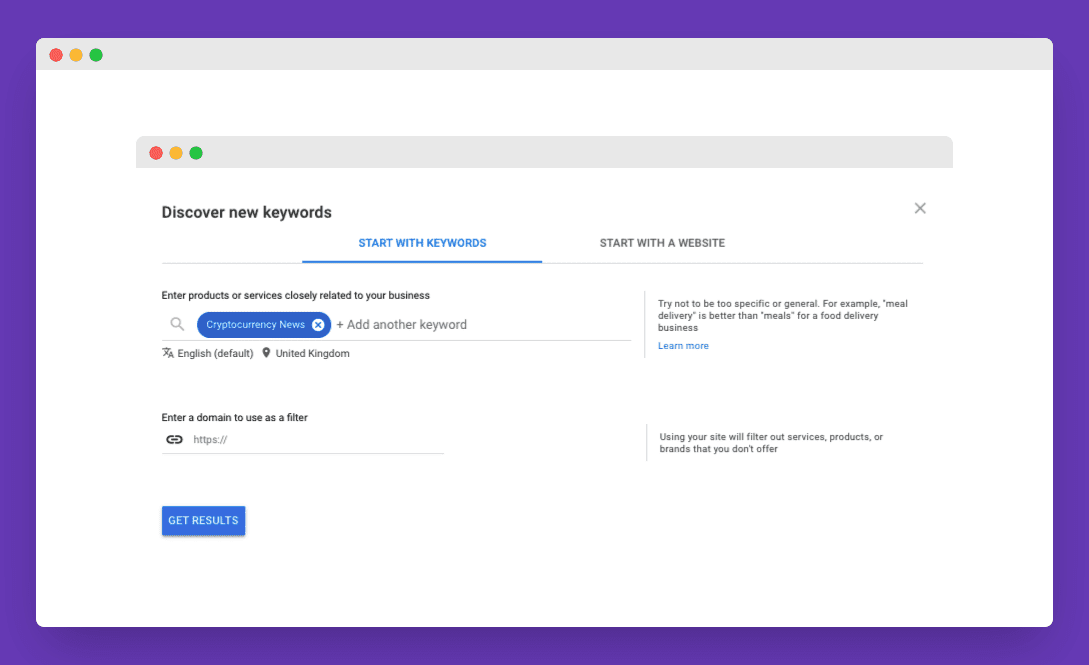 Next, a list of associated keywords will appear:
Google Keyword Planner gives you all the information you need. You can see the average amount of monthly searches and the relative competition per keyword.
You need to pay attention to two main criteria you want to fill when selecting a keyword:
There is low or medium competition
There is a decent level of average searches
If your keyword fulfils both of these criteria, your article has a great short of being picked up by Google searches.
Write your crypto blog!
Now that you have a great topic and title, know what structure you're going to use, have found competitors'' subheadings, have collected a strong central keyword, you're ready to write!
Always plan before you write. Write down all the subheadings you'll be covering and then just fill in the gaps! You'll be done in no time.
On-page tips to optimise your crypto blog SEO
Now that you've written up your first crypto blog, it's time for some crypto blog SEO. There are a few main areas that you need to cover before you hit publish. Optimising each of these areas of your blog post will ensure it ranks higher on Google search pages. Let's discuss how to optimise the following features of your crypto blog post:
Titles
Intros and Conclusions
Text and paragraph length
Meta Description
Images
Tables of Contents
Slugs
Backlinks
Titles
Titles are the very first thing a potential viewer is going to see. Alongside this, a title is also the first thing the Google search console will come across when indexing your post.
Due to this, you need to ensure that your title contains the keyword you've selected. It's even better if you place the keyword at the beginning of the title, but if you can't make that happen, anywhere will do!
You also want to make sure your title doesn't extend over the Google search limit. If so, it'll be cut off with an ellipsis.
Remember to keep titles short, snappy, and enticing!
Introductions and Conclusions
In our busy world, Buffer has reported that the average reader will stay on an article for 15 seconds or less. You have 15 seconds before a potential customer decides this isn't the article for them and clicks away. Harsh, right?
Well, we live in an incredibly busy world. Most people will be skim reading articles and looking for keywords. That's another reason why good subheadings are so effective.
With only 15 seconds of skim reading, your first paragraph is vital. Make sure to include your keyword within that first paragraph. Additionally, you want to hook your reader in. Focus on proposing questions that you'll answer later.
Do not waffle in your first paragraph. You want to keep it short and to the point! The same goes for the conclusion, make sure you round off quickly and effectively.
An extra tip for conclusions is to leave with a call to action. That could be to leave a comment, check out other blogs, or subscribe to your service.
Paragraph length
People get overwhelmed by long paragraphs. Keep things short! At maximum, a paragraph should extend over four lines. But, ideally, you're going to be wanting to keep them under that figure!
A smaller paragraph is easier to scan. More white space on the page makes the blog look much neater!
Who knew you could write less and get more out of it!
Meta Description
Meta descriptions should need two main features.
Between 120-150 characters
Contains the keyword
All you need to do is include the above two features and describe what you've written about in your article.
Keep it simple!
Optimising Images
Image optimisation is often a part of blog SEO that people overlook. Don't fall into that trap!
Follow these steps to optimise your images:
Step One – When exporting or saving your image, make it as small as possible. You could also use an image compressor to do this.
Step Two – Title the image with a description of what it is, even better if you use the keyword
Step Three – once the image is uploaded, give it a descriptive alt text. This will help any visually impaired viewers of your blog.
Table of Contents
Considering only 45% of readers will stay on a webpage for more than 15 seconds, a table of contents will immediately point people in the right direction.
Sometimes, people may only want to read one singular section of your blog post. A table of contents will help them get to that section, saving them time and ensuring your blog post gets a view!
If you're using WordPress, Easy Table of Contents is a fantastic starter plugin.
Slug
First of all, what exactly is a slug? Well, a slug is part of your page's URL, it's the part that explains what the blog is about.
Every post on our site will start with https://guerrillabuzz.com.
When publishing a blog, the slug will go on the end. For our post titled Blockchain Marketing – Everything you need to know you can see that the slug contains our main keyword.
That brings us to the main focus on a slug. Describe what the article is about while trying to incorporate your keywords.
As you will be updating your articles over time, try to keep to evergreen slugs. Avoid markers of time like Blockchain-marketing-2021, as this will become outdated.
You want to keep your links looking fresh, no matter when they were posted. 
Backlinks
Now we come to one of the most important aspects of crypto blog SEO. A backlink is a link from one page to another. These are important as they essential demonstrate that one website vouches for the quality of content on another website.
The more backlinks your website has, the more credible Google assumes you to be. Based on our research, there is a strong correlation between the number of backlinks pointing to a website and the money raised per project.
Check out this graph!
This correlation also extends to the number of different websites pointing to yours. To put it simply, IDOs with more backlinks raised higher amounts.
Over time, your fantastic crypto blog content will garner attention and gain more backlinks from other websites.
In the meantime, focus on something you can more easily control – Internal linking. Want to know more about backlinks? Check out our Crypto Link Building guide!
Internal Linking
In every blog post, you want a minimum of two internal links to your own content. These links are to posts that you've written previously. Doing this works for two reasons:
Provides a content pool
Provides backlinks to your own content
First of all, if you have article after article explaining concepts, a reader can move from one article to the next with ease. Internal links in your text will help people to navigate your page, learning more and racking up your view count.
Secondly, linking to your own content counts as a form of backlink. This builds up the credibility of your website. If you want to know more about off-page SEO tactics, we've written a full crypto off-page SEO guide for you to read!
Pro Tip: Alongside linking to old articles, also edit old articles to include links to the newer article you're publishing. This backwards and forwards linking will improve the credibility of your article and boost SEO.
Closing thoughts
Crypto Blog SEO doesn't come naturally. There will be times where you just don't seem to be making progress. Don't panic. Things take time! If you follow the steps for optimising your crypto blog posts listed in this article, you'll be bringing in organic traffic in no time.
All this talk of SEO got you confused? If you need a little extra help, we have years of experience and many outstanding reviews under our belt. Get in contact today for a free consultation. We'd be more than happy to help.
Got questions? Drop them down below and I'll get back to you!